The Xaraes Hotel in Pantanal South
A closer look at the Xaraes located in Pantanal South.
Inspected by our Hotel Experts.
For all those wildlife lovers who always wished to get a chance to spend some relaxed time watching these animals in their natural habitat then your right choice would be to visit Patanal, Brazil and stay at Pousada Xaraes located at Estrada Parque Area. Patanal is 340 kms away from Campo Grande, the capital of the state of Mato Grosso do Su.. This is the world's largest freshwater wetland and is home to a wide range of animals species that include reptiles, mammals and exotic birds. The specialty is that you can find them in their most primitive form. tLocated amidst a commercial cattle ranch that sprawls over an area of 10,400 acre, Pousada Xaraes is a real dreamland. The river Abobral enhances the beauty of Patanal.
With a complete make over, Pousada Xaraes has now upgraded itself with modern amenities to accommodate high class customers with more comfort and benefits. It has 17 apartments spread over three buildings. There are 8 Double bedrooms, 6 Triple Bedrooms and 3 Quadruple rooms all of which are complete with all the facilities to accommodate you comfortably. All rooms are spacious enough and air conditioned and a ceiling fan too. Each one has a private bathroom with a provision of hot water. The windows are covered with curtains. They provide a telephone and a mini bar to relax and refresh yourself. There is the beautiful veranda with a hammock where you can relax and enjoy the musical fiesta of the Pantanal birds and the loving and caring communications of the monkeys.
The other general places of comfort within the Pousada are the dining room, the sitting room decked with a fire place to warm yourself up. The bar is provided with a veranda adjacent to it for guest to relax and enjoy a drink or snacks and there is the barbecues kiosk with a wood fired stove.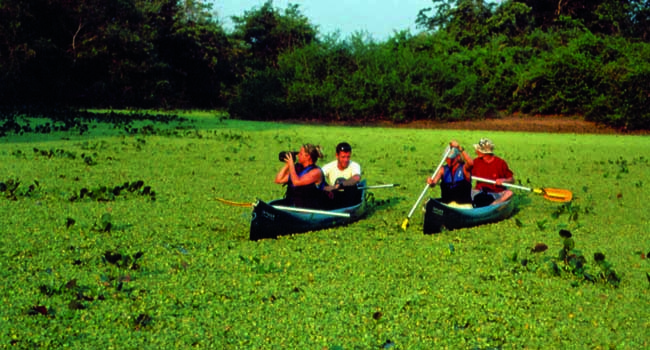 For the sports lovers and health concerned people you have the games room, swimming pool with fresh natural water sans any chemicals, swimming pool for the children, a beach volleyball pitch, a football field, a horse riding area, a tennis court, lassoing track and of course not to miss the mini‐gym and dry sauna.
There is a large living room that provides many recreations. There is a snooker‐table, board games, for indoor games lovers, a small library to spend some quality relaxed time. For entertainment you have the TV/DVD.
The other activities provided by them are bird watching, daytime and even night time hikes, canoe tours, horseback riding, horse cart trip, trail walking, Safari and sporty fishing.
Plan a long trip and you are sure to enjoy each and every moment of it.
29 de Oct de 2010