Welcome to Rio's coveted hotspot- Ipanema
If you wish to set a trend or merely follow one, Ipanema is where you want to be!
The chic and upscale Ipanema neighborhood and beach lie near the Copacabana coast between Lagoa and Leblon. A spectacular beach and a hotspot during the Carnival, it witnesses the celebrations pouring onto the streets before leading to the Sambadromes. The Ipanema beach was immortalized by the song 'Girl from Ipanema' by Tom Jobin. The locality of Ipanema is an extremely sought after residential space in Rio de Janeiro and most if it was built after the Art Deco boom in the city.
A lively place known for beautiful people flocking it, Ipanema is a trend setter and not just trendy. The proof of this is seen in fashion, music and movies that have drawn inspiration from it since ages. Whether it is the Bossa Nova in the sixties, the trend of tanga bikini or going topless, it all started here. All the glamour and statements do not deter Ipanema's fun quotient and the beach is filled with crowds playing volleyball and soccer, surfing, etc. It offers a more relaxing and serene atmosphere and the waters are calm and inviting with separate play areas for children. Besides, plenty bar cafes, kiosks and stands are scattered around the beach, tourists will find art galleries, boutiques, theatres and bookstores.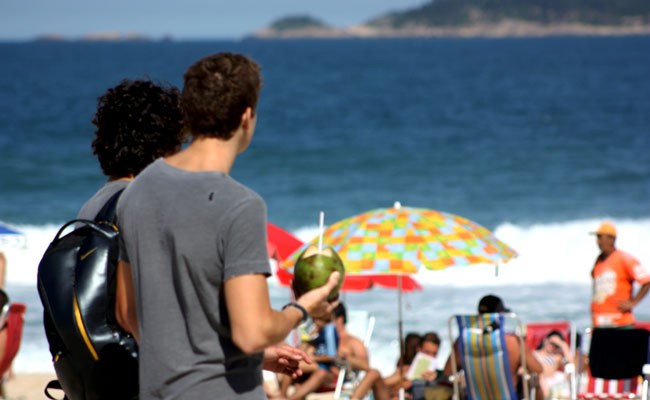 Ipanema offers good shopping on its Rua Visconde de Pirajá area and its by-streets thrown in with excellent restaurants, great night scene, not to forget the beach. The beach, bustling with people, is a major recreation spot for locals and tourists and you can see people skating, cycling, jogging and flaunting themselves. It is also popular for the Feira Hippie on Sundays at the Praça General Osório. Started in 1968 by some hippies, this fair boasts of 700 stalls selling everything from clothes, jewelry, Brazilian arts and crafts. It is the best place for tourists to pick up souvenirs.
For a place to stay try Mar Ipanema, Praia Ipanema, Marina Palace, Best Western Sol Ipanema, Ipanema Plaza, Marina All Suites, Caesar Park or Fasano Rio.
What's your take from Ipanema?
10 de Oct de 2010