Unidos da Tijuca Samba School– Rio Carnival Champions for 2010
They promise you some horror some shivers and plenty of spirit – They are Unidos da Tijuca 2011!
Unidos da Tijuca Samba School is the third oldest Rio Samba School, having been founded during 1931 in the Morro do Borel Hill of Rio's north side. It was an act of merger of 4 separate carnival blocos that led to its emergence. The school's main aim was to preserve and give an impetus to traditional Brazilian folklore and garner support for popular causes. Its rehearsals are now held near Rodoviária bus terminal, at Clube dos Portuários.
Unidos da Tijuca Samba Schoolcan be described as a late bloomer; its earlier performances were quite unremarkable except for 1936, when it managed to clinch the top position. It caught the attention of spectators in 2004 when it put on an innovative, artistic and a slightly controversial performance. It made rapid strides since then and improved tremendously with regard to professionalism, structure and was the first to add live choreographed performers on floats; what are now referred to as human sculptures. It also has one of the strongest percussion bands among the samba schools.
Unidos da Tijuca Samba Schoolscaled the height of glory when it won the Championship in 2010 with its theme being É Segredo, in other words 'It's a Secret'. The director had given strict instructions prohibiting members not to divulge any details till the last day. It explored the mysteries, secrets and a number of unanswered questions of the universe.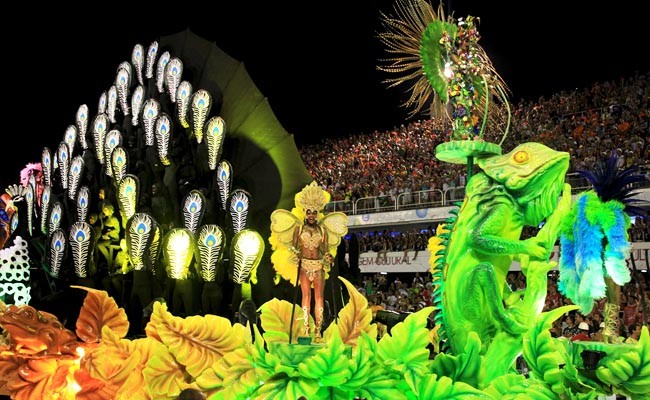 Unidos da Tijuca 2011has a tough act to follow and Paulo Barros has already revealed the synopsis and poster for the theme. Unidos da Tijuca 2011 will have Esta noite Levarei Sua Alma or 'This Night I Will Take Your Soul' as its theme. It is expected to feature some of the top names from the Brazil film fraternity. Unidos da Tijuca 2011is said to be inspired by detective movies, suspense and horror films and plans to show the Brazilian spirit which overcomes fears.
Are you waiting for an encore from Unidos da Tijuca 2011? Get a Costume now!
If you prefer to just watch the parade we have tickets for you!
07 de Oct de 2010