The Rio Othon Palace Hotel in the marvelous city of Rio de Janeiro
A closer look at the Rio Othon Palace located in Rio de Janeiro.
Inspected by our Hotel Experts.
Rio Othon Palace is an exquisite hotel located near the Copacabana beach in Rio de Janeiro, Brazil. It provides comfortable accommodation with up to date modern facilities. It is right besides the beach and a mere eight kilometres from the railway station. It is conveniently connected to downtown by fast and reliable connections.
It offers 586 comfortable accommodations to choose from. They range from standard rooms to deluxe rooms. Each has comfortable air conditioning to keep the temperature in the room maintained. You get a FM/AM radio and television for your entertainment. Telephone with answering machine is also provided for your convenience. The mini bar helps you to stop worrying about carrying your cash and valuables. Small requirements like hair dryer are given too. The deluxe rooms have balconies in the ocean front. The double or twin beds are really comfortable. You even get internet connection so that you can stay connected with your friends and keep updating about the beautiful visit.
One can surely have a wonderful time at the Copacabana beach. From surfing to snorkelling, diving and many water sports. The hotel gives you privileged shore view. The charming town is known for its warm people, the dazzling beauty, and cosmopolitan culture. One can enjoy the entire day roaming among the smart shops, fairs displaying finest handicrafts. Night life is no less colourful. The lively night clubs will keep you up and dancing all night long. Then you can visit the cinemas or theatres too. Some of the famous land marks are worth a visit like the Statue of Christ the Redeemer perched atop the Sugar loaf Mountain.
In the hotel too you will find a range of things to do. The roof pool is really nice. You can have a relaxing dip in it. At the same time you can sip your favourite drink. The roof hotel restaurant gives you great view and equally great food. The lobby bar is in the ground floor and gives you a range of options. The Estancia and Patio Tropical are located on the third floor and is ambient and good. Every Saturday, tempting Feijoada which is a typical Brazilian speciality is served.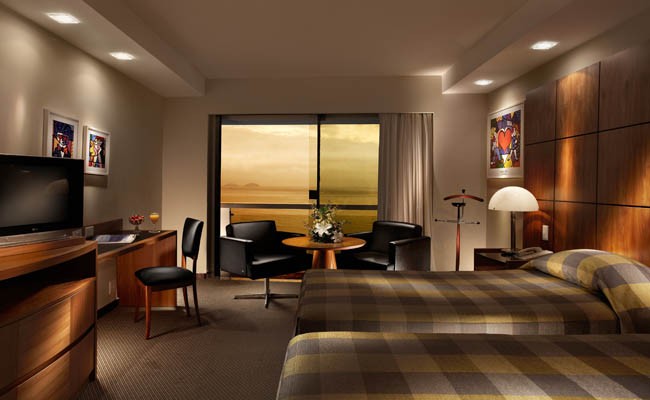 Apart from Copacabana, one can visit the Ipanema beach from the Rio Othon Palace. Both are famous for its clear blue waters and white soft sands. The view apart, the feeling of peace and tranquillity and at the same time adventure, that the place offers cannot be felt any place else.
Rio Othon Palace, Rio de Janeiro, Brazil is the right place to be to explore the picture perfect surroundings.
08 de Nov de 2010