The Oasis Atlantico Praia das Fontes Hotel in Beberibe/Fortaleza
A closer look at the Oasis Atlantico Praia das Fontes located in Beberibe/Fortaleza.
Inspected by our Hotel Expert team.
Oasis Praia das Fontes, stands majestically over the cliff, directly by the beaches between the dunes and lakes, about eighty kilometers from Fortaleza, Brazil. It is one of the marvels of Oasis Atlantico Hotels and Resorts.
In all, there are 253 rooms including standard room or bungalow, superior chalet suites; all maintained by well trained staffs that take care of all your needs starting from waking you up to laundry, making arrangements for travel and everything else, with twenty four hour room service. Free private parking is available for the visitors. For those, who wish to access the internet, wireless internet is available in public areas at a nominal cost per hour. In case extra bed or baby cot is required, that too is provided upon request.
The rooms are very comfortable and have all the contemporary facilities including air conditioning, cable television, DVD player and mini bar. Small and big things alike are taken care of. The lady's companion, the hair dryer is also provided. Apart from this, the 24 hour room service ensures you have nothing to complain about.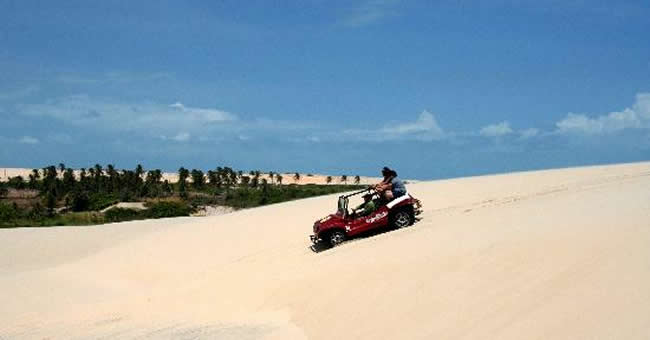 To indulge in food delights, restaurants Caravelas that boast of excellent Brazilian food and Iracema for food of all variety are at your disposal. Ladies and gents who wish to pamper themselves may visit the dry sauna or the hairdresser or simply go on a shopping binge. For those who wish to enjoy their sport or get going with the fitness regime, the tennis court, fitness centers, games room, soccer court, basketball court, volleyball court, swimming pool, table tennis facilities and also playground for the young playful ones are available. The hotel proudly claims to be gay friendly too. In case one wishes to get serious or throw a party, meeting and banquet facilities are at their disposal. Water lovers will get free entry to side Aquapark too. Oasis Atlantico Praia das Fontes keeps the comfort of the less able in mind providing wheel chairs and other facilities for the disabled when required.
Traveler's all time worry of carrying cash and valuables is taken care of by providing with safety deposit boxes. Also currency exchange headaches are avoided with the currency exchange facility. One may visit the chapel or shrine for a peaceful rendezvous with the one you worship.
For your convenience, credit cards are accepted including Amex, Diners club, JCB, Master card, Master charge and VISA. Availability of rooms can be easily checked using the World Wide Web and bookings be done using the same; thus saving a lot of trouble.
The visit will be memorable and surely you will have nothing to complain about. So you have more than one reason to visit Oasis Atlantico Praia das Fontes at Av. Cel. Antonio Teixeira Filho, 03‐Morro Branco, Ceara.
Learn more about Fortaleza: List of hotels, packages, tours and much more!
10 de Aug de 2011