The Naoum Plaza Hotel in Brasilia
A closer look at the Naoum Plaza located in Brasilia.
Inspected by our Hotel Expert team.
The Naoum Plaza, is situated in Brasilia which is a part of Distrito Federal in Brazil. The hotel is also well connected through the Brasilia airport which is only 10 minutes away from it. It is a 5 star hotel. Being in the center of Brasilia, it is close to most of the Brasilian tourist attractions such as the national congress, national theatre, or the Presidential Palace. The convention centre is just 5 minutes from the hotel.
This hotel has several modern amenities. It is especially great for ladies who want to watch their favourite movies and programs on TV. The TV room can be used by any of the guests at the hotel. The swimming pool is obviously present at the hotel and you can cool off by jumping into it any time. Or you could tryout the dry and wet saunas while the children enjoy themselves at the poolside. The fitness centre has been well designed and you need not to worry about the weight either.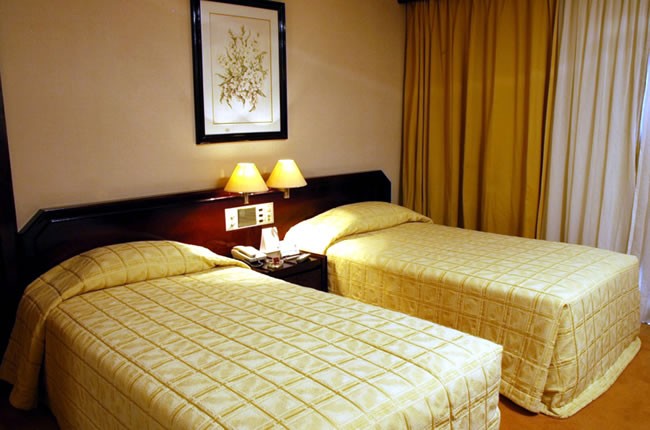 The hotel also provides facilities of personal computers, Internet connectivity and fax. In this manner you shall never get cut‐off from the world. The Naoum Plaza also offers Translation Services. This is the x factor of this hotel because for foreigners who do not know the local language‐ this shall be a boon. You shall never face the language barrier in your vacation again if you choose Naoum Plaza to be your home while you visit Brasilia. For those who have to work where ever they go the hotel provides six convention rooms also. It also has a business centre that can be used in case of emergencies.
Naoum Plaza is well known for its good food, and if your kids are great foodies they shall certainly like the hotel's restaurant. The Mitsuba traditional Japanese Restaurant is a great Japanese food joint and one must try out its chef's amazing culinary skills. There is also The Falls Restaurant in here where you can eat International cuisine for lunch or dinner.
The hotel has room service available and a beautiful lobby and reception. Several of your tours can be fixed at the hotel itself. This is because the hotel ties up with various tour operators. This hotel shall not disappoint you‐ so do come and visit. Its address and contact details are Setor Hoteleiro Sul Quadra 05 Blocos, 70322 914, Brasilia, BRAZIL.
Learn more about Brasilia: List of hotels, packages, tours and much more!
06 de Jun de 2011