The Ipanema Plaza Hotel in Rio de Janeiro
A closer look at the Ipanema Plaza located in Rio de Janeiro.
Inspected by our Hotel Experts.
Just less than 100 meters from Ipanema Beach, 5 minutes walk from Copacabana beach, and easy access downtown and to all airports in Rio, there is a great designed Hotel named Golden Tulip Ipanema Plaza. Adding to this atmosphere are the stylish bars, restaurants and shops that surround Hotel Golden Tulip Ipanema Plaza.
Hotel Golden Tulip Ipanema Plaza excels in its hospitality and has a new trend of Boutique Hotel. All its 140 guest rooms have been carefully furnished and equipped to make the guests comfortable in all aspects.
The rooms are available in 3 categories: Standard Room – Has a partial view of the sea and has an option of 2 single beds or one queen size bed as per the guest's choice. Deluxe Room – Some of these rooms consist of an anti‐room and a sofa bed that gives additional comfort and living space for the guest and his family.  Last but not least, the Executive Room with 40 m2 and some rooms overlook the Lagoon and the Christ Redeemer.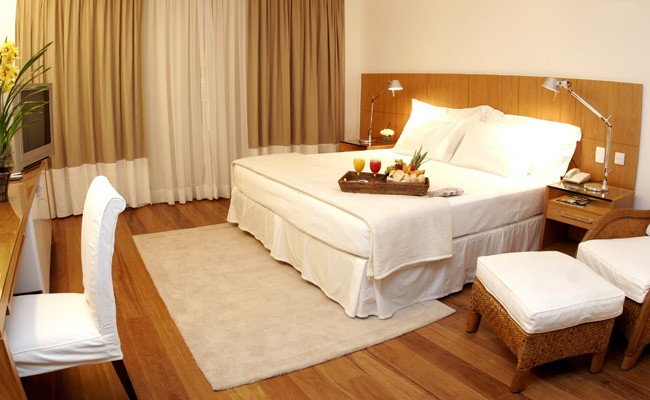 You can now savor sumptuous Asian Contemporary Cuisines at the Opium Restaurant. Along with that is the Sushi Bar and Veranda.
It boasts of the largest swimming pool in Ipanema that is located on the top floor. You can have a leisurely swim or just see your friends swim while you can enjoy the beautiful landmark view of the Ipanema Beach, Christ the Redeemer and Rodrigo de Freitas Lagoon.
You can try out their fitness centre filled with the latest fitness gadgets followed by a relaxing sauna.
For beach activities they also provide you with beach towels, chairs, sun screens and security. After a evening stroll at the beach, you can go for some exciting shopping at the many centers located nearby the hotel.
Then of course at night starts the partying for which Ipanema Beach is famous. There are great bars and restaurants that offer a variety of local dishes and drinks.
Once you are here, it is sure you'll have a great time!
06 de Nov de 2013