The Internacional Lucsim Hotel in Recife
A closer look at the Internacional Lucsim located in Recife.
Inspected by our Hotel Experts.
International Palace Lucsim Recife is a luxury four star hotel situated on Boa Viagem Beach, Pernambuco, Brazil. Its convenient location makes it very popular among holiday makers, honeymooners and general guests on a leisure trip. It  provides an easy access to the city as it is just 10 minutes from the City Center malls. It is also just at a five minute drive from the Airport.
You will not only find great service at International Palace Lucsim but a warm feeling around. Keeping you entertained with the modern luxuries, it brings you closer to the scenic beauty of the nature at the same time, offering the breathtaking sea view. In all there are 248 rooms, each luxuriously spacious and elegantly furnished. They have all the contemporary facilities to make you comfortable.  Each room has air conditioning, satellite television, mini bar, attached bathroom with cold and hot water, hair dryer, telephone with voice mail, private safe  etc. You can access internet also.  Bathrooms have 110 volt electric sockets for your shavers and other appliances.
There is a 24 hour room service at your disposal for your convenience. You don't need to wash your clothes or take dirty clothes home, yes; the hotel provides you laundry services also. The hotel also offers baby sitting services upon request.  Other services include Professional Concierge services, Doctor on call, Shoe shine, Housekeeping etc. The hotel staff is easy to approach and communicate and polite, accommodating and friendly. There is a large and tempting swimming pool where guests can swim and unwind.
The Arrecifes Restaurant offers large variety of delicious dishes. You get regional local as well as lip smacking international cuisines. You can have all your meals here. If you are looking for a place for quick meals, there is a coffee shop in the hotel, the Goiabeiras Coffee Shop that offers a blend of relaxation and a variety of coffees.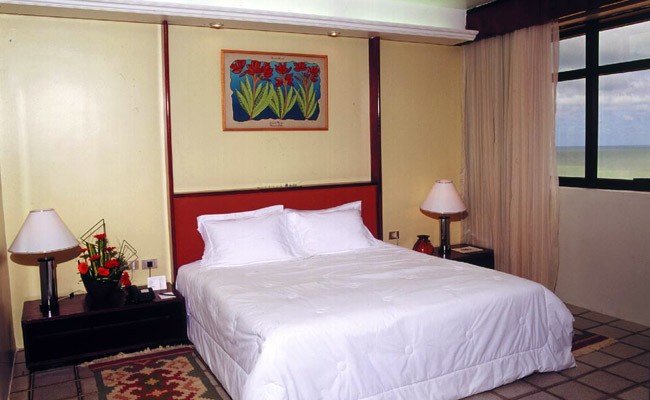 There are seven well separated rooms at the Internacional Palace Lucsim, if you want to organize any social event. For your convenience, the hotel provides valet parking. If you want to have a private chit chat or a business meeting, there are meeting rooms also.
The hotel is highly recommended for the young singles getaway, people with disabilities, older travelers, families with young children, families with teenagers, tourists; in short everybody. The hotel also provides babysitting facilities so need to worry if you have small children.  The gorgeous location, luxurious amenities, breathtaking sea view; all make your stay worth the time and money.
11 de Oct de 2010