The Ferradura Resort Hotel in Buzios
A closer look at the Ferradura Resort located in Buzios.
Inspected by our Hotel Expert team.
Ferradura resort is an exquisite hotel on the Ferradura beach near the centre of Buzios in the state of Rio de Janeiro, Brazil. The centralised location conveniently places this four star resort close to most tourist attractions. Picturesquely, Ferradura resort is surrounded by green tropical gardens.
In all there are 36 guest rooms. Rooms are comfortable and well equipped. All contemporary facilities are taken care of including air conditioning, cable/ satellite television, in room movies, mini bar; private baths with every small detail taken care of like hair dryers. Some rooms have ocean front balconies. Non smoking rooms are available too. To stay connected, guests can ask for internet connection in the rooms. Breakfast is served in a buffet style, starting your day in a jolly mood. Then you may wish to tone down by availing the facilities in the gymnasium or take a dip in the swimming pool. In case, you are here with business in mind, Ferradura provides you with a well equipped Business centre. Other wise, there are loads of options to explore. The swimming pool invites you to take a dip, or may wish to work out in the gymnasium. You may wish to pamper yourself in the Jacuzzi. So does the sauna help you do the same.
Room service with a smile and warm cordial hospitality ensures that you have nothing to complain about. Restaurants with international cuisine give you loads of options to satisfy your hunger. You may have a sip of your favourite drink in the bars. All the time you will be served warmly by the staff. All your requirements of housekeeping, laundry, room service, suggestions for travel in town, everything will be taken care of.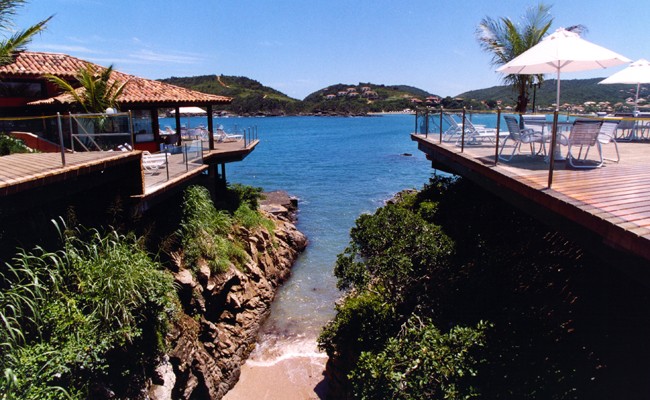 What is so lucrative about the Ferradura resort is that the central location is easily reachable to most major tourist attractions as well as business address.
Right from your very arrival, where you will park your car in the spacious parking, to being warmly welcomed with a smile, luggage being carried by the friendly porter; the comfortable stay in the hotel, the beautiful charming town, the secure atmosphere all leads you to have a smile on your face and leave at the end of your stay decided to come back again. Families, singles, kids, elders alike enjoy the stay. Availability of rooms can be easily checked using the internet and bookings can be done using the same.
You will surely have an enjoyable time at Ferradura resort, Rua O Lote 4‐ Condominio Atlantico, Geriba Lake, Buzios, Brazil.
13 de Jul de 2011