The Buriti Hotel in Lencois Maranhenses
A closer look at the Buriti located in Lencois Maranhenses.
Inspected by our Hotel expert team.
Buriti Lencois Maranhenses is an exotic place to put up while visiting Lencois Maranhenses, north Brazil. The location is strategic owing to its position on the beach of Cabure. The stunning beauty and also the agreeable temperature make it a place worth visiting. It is situated on the east coast of Maranhao state,  along the Preguiças River.
The accommodations are comfortable cabins with private balconies with hammock. The bathrooms are comfortably spacious and well equipped. The swimming pools are bold and are accessible to both adults and children. Kids can have fun playing in the playground. Apart from that, you can visit the pier to enjoy fishing as well as the sunset, belvedere with pretty and panoramic view and a square ideal to admire the stars and the moonlight and calmly listen to the sound near the sea. The rooms are fully furnished with luxurious beds, wardrobes and toiletry and shower facilities. One need not worry about power facility as the backup power generator works till late in night.
The National park of Lencois Maranhenses has a history of over thousand of years attached to it. It represents a rare geological formation. The delightful landscapes present pretty resemblance of sand dunes in places. The sight of the Great sheets is surely not to be missed during the rainy season. Also you get to enjoy the two famous bathing ponds; the Laguna Bonita and Blue lagoon ponds. With the landscape of fine soft sand combined with lagoons of clear blue waters, Lencois Maranhenses is paradise like in true sense. After a refreshing swim, you can even go and sip your favorite drink in the bar. You need not have any worries about laundry and housekeeping as both are well managed by the staff. The staff is in fact well trained and highly efficient. They are always ready to serve you with a smile.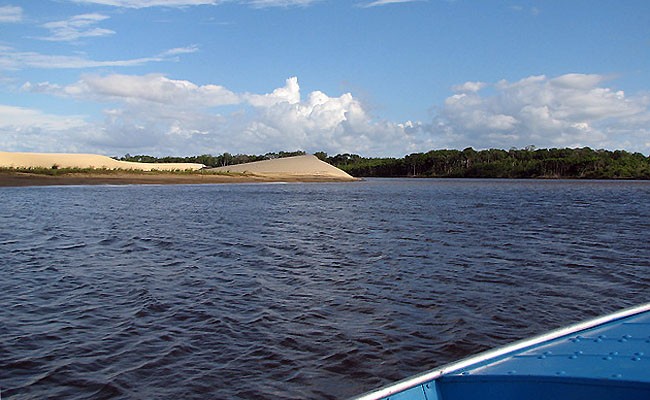 Your gastronomical needs are also taken care of at the restaurant at Lencois Maranhenses. The food is traditional Maranhao and can be quite varied and includes an array of seasoning and tastes. Also includes Portuguese, African and Indian food. One can consult the food guides to pick the ebst among the lot of different restaurants.
Kids, adults, families and singles alike are assured a great time at the Buriti Lencois Maranhenses, Praia do Cabure. So when you plan your next holiday, pack your baggage and head towards Lencois Maranhense!
04 de Dec de 2010