The Abracadabra Pousada Hotel in Buzios
A closer look at the Abracadabra Pousada located in Buzios.
Inspected by our Hotel Expert team.
Abracadabra Pousada is a magical getaway in the heart of Brazil. A masterpiece of its Argentine owner Amalia de la Maria, daintily sitting on the hillside, overlooking the main bay, it completes the magical picture of a beautiful relaxing stay. It is two and half hour drive from Galeao – Antonio Carlos Jobim International airport, Rio de Janeiro.
Rooms are very comfortable and may be termed luxurious in a sense. They are equipped with all modern facilities needed to make your stay a comfortable and fun one. Air conditioning cum climate control, television, Wi‐Fi internet connection, telephone, equipped bathroom with every minute detail taken care of including even a hair dryer. In addition, deluxe and superior rooms are with ocean view. Rooms have balconies to let you enjoy the view better. All this comes at a medium price.
Welcomed to a lavish living room, greeted by friendly staff, you will feel warm from the very beginning. The sparkling swimming pool invites you to take a dip. The lounge bar is a nice place to hangout in the hotel.
The high point of this hotel is its tone of luxurious calm. It is ideal for an intimate getaway. Ideally suited to help you relax, clean, comfortable, soothing. Your own terrace with a hammock is the peak of a soothing experience.
One can easily avail public transport though foot travel is preferred. The Abracadabra Pousada is within walking distance of about twenty beaches. The famous Rua das Pedras is very near to the site. On this main street, a number of bars, boutiques and restaurants are there. The culturally rich area offers you a lot of options to explore. Sporting and recreational activities are famous along the shoreline. Languages spoken here are German, Spanish, French, English and Portuguese.
Though one can relax here most comfortably, in case you are hunting for fun, party is never far to find. Drinks flowing by the poolside; shopping away to glory all day long, dancing and enjoying the nightlife and many more things to do. All along the main Buzios strip, you will mix the beats of live music with rustic charm of fishing boats lined along the shore.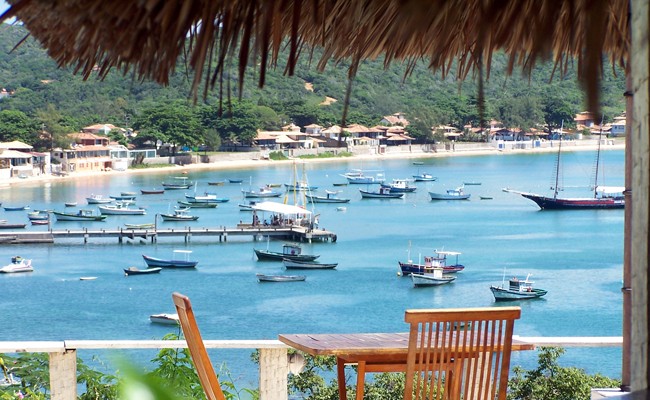 Availability and prices of rooms can be conveniently checked using the internet and booking can be done using the same. You will assuredly have a wonderful stay at Abracadabra Pousada, Morro do Humaita, 13‐ Centro Buzios, Rio de Janeiro, Brazil.
08 de Dec de 2010