The Serhs Natal Grand Hotel Hotel in Natal
A closer look at the Serhs Natal Grand Hotel located in Natal.
Inspected by our Hotel Expert team.
Serhs Natal Grand, a huge and majestic five star hotel is located between the beaches of Ponta Negra and Areia Preta, just 12 km from the international airport of Natal in the beautiful city of Natal, Rio Grande do Norte, Brazil. This prominent and magnificent hotel offers the opportunity to test a new concept of hospitality.
The entire hotel has been constructed in a modern way keeping in mind the international standards and offers 396 air conditioned rooms, windows with mosquito netting, ceiling fan and private bathrooms with both cold and hot shower. You get a mini bar and a mini closet.
While enjoying a relaxing holiday in the calm and tranquility of the island, you can also try the delicious food in the hotel's restaurants. The cuisines are freshly made, including the sea food, which is a specialty. The hotel has 2 theme based restaurant with a varied regional menu. And, of course! It is wonderful to have your breakfast on a deck above the rocks with breath‐taking views of the Atlantic Ocean.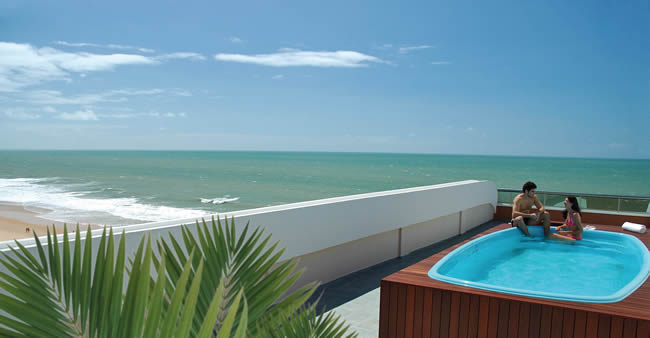 Some the activities offered by Serhs Natal Grand, to make your stay a memorable one include, 4 swimming pools with an adjoining covered area for meals, large verandas with hammocks, gift shop, bar, and restaurant. Keeping you entertained with the modern luxuries it brings you closer to nature at the same time, offering the breathtaking lake view. The efficient and multilingual staff will provide you 24 hr room service. Other services like laundry/ironing, room service, shuttle service (i.e. to/from town centre), vehicle hire/car rental can be arranged easily.
One can conveniently explore the island without worrying about the transport. You get cabs and travel guides both. Natal is known for its natural beauty, the clear blue waters of Maracajau, the large cashew tree, one of its kind in this world, the majestic historical monuments. The largest urban park in Brazil sits daintily here too.
The Serhs Natal Grand is one of the best on the island and is an ideal location for honeymooners, fun seekers and family holidaymakers. Guests are assured of an international class of hospitality and services. The hotel boasts a loyal client base that comprises of guests from almost all the countries of the world. So, let Serhs Natal Grand help you enjoy the pristine beaches of Natal, Brazil during your next holiday. Rest assured that it is going to be a lifetime experience for you and your family.
04 de Aug de 2011