Securing a Hotel Room for Carnival 2011
Looking for a hotel during Rio Carnival
Looking for a great place to stay, while in Rio for the Rio carnival, could be a stressful process if you don't have a good orientation or do not know the city.
If you haven't been to Rio de Janeiro before, count on us to help you in finding the perfect Carnival 2011 hotels . It is important to consider a lot of things before making your reservations for 2011 Carnival hotels.
Finding the best Carnival 2011 hotels will not be difficult if you make your reservations earlier on. That is it. No need to worry about other things. If you have the budget and you saved specifically for the Rio Carnival, you will certainly have a blast on your hotel while enjoying the other fun things in life. Reserve on your 2011 Carnival hotels and have peace of mind that you will have a great place to stay in come Rio Carnival!
Of the half a million people visiting the place every year for the iconic celebration, we ensured that Rio is prepared for the massive number of people for the Rio Carnival. This means earlier on, or months before, you should make a reservation already for the Carnival 2011 hotels. Hotel rooms available get impossible to find one or two months before carnival. And if you find one available, it will cost you an arm and a leg.
The first and best advice we can give you is to book your hotel room for carnival way in advance. The earliest, the better. Year after year we see prices double by end of the year, just a few months before carnival. Then, it's all about how much you want to pay, with hotels actually charging whatever they want for those difficult to find left overs.
The next thing to consider is pricing. All hotels with no exception apply packages with a fixed and mandatory minimum of nights and a fixed date for your check-in. Of course, you can always add the extra nights aand extend your stay in Rio de Janeiro.
Now let's talk about location and explain why the subway matters on your decision. Mosts people stay in Copacabana and Ipanema, due to the beaches. Staying in Downtown or in the neighborhoods between Ipanema and the sambadrome is a very smart idea for those on a budget. Here's why: Rio de Janeiro is well served by a subway system, very safe. The subway system connects the neighborhoods of Downtown, Flamengo, Gloria and Botafogo to IPanema and Copacabana working 24 hours a day during Carnival. That means that you can travel from the sambadrome to Ipanema in about 20 minutes in a nice air conditioned subway car. All for about $1,50 each way.
So, our best suggestion for those looking for a cheap option on Rio de Janeiro Carnival is to get a room in Flamengo, Gloria or Downtown area, using the subway to travel to Copacabana, Ipanema and the sambadrome. Plus the downtown area is served by the bosts blocos and bandas of the city. Since those neighborhoods are all  within walking distance to Lapa and Cinelandia, you will be able to enjoy the many festivities and attractions planned to that area of the city. So, the best plan is to use the subway to commute between blocos and bands, the sambadrome and the beaches. It's all very nicely served by the subway.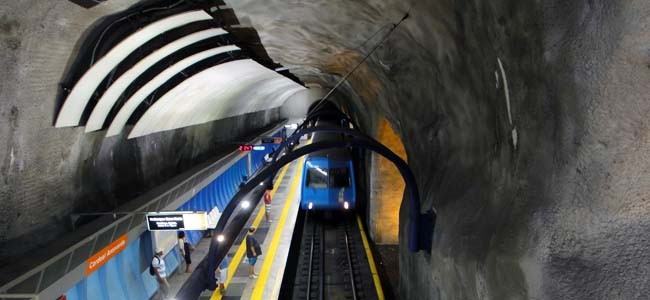 If you ask us how cheap are the hotel packages during carnival  for those hotels far from Ipanema and Copacabana, or rather what's the difference in pricing, we can surely answer that a similar hotel in Copacabana if placed in Gloria will cost you 50% of the price. Yes, the carnival hotel in Rio can actually be 50% cheaper.  That normally means a savings of seven or eight hundred dollars on your tab for a a five day period during Rio carnival. So why not use up this money to party during carnival?
Want to know more about 2011 Rio Carnival?
Read other posts about the upcoming 2011 Rio Carnival, book your hotel in Rio and buy your Rio Carnival parade tickets.
20 de Sep de 2010