Morro de Sao Paulo's most exclusive Resort, The Patachocas Eco Resort Hotel.
A closer look at the Patachocas Eco Resort located in Morro de Sao Paulo.
Inspected by our Hotel Expert team.
Patachocas is the largest resort located in Morro de Sao Paulo, Brazil. It is very near to Fourth Beach, one of the peaceful beaches. It offers 52 apartments in total and over 26 bungalows. Each room is spacious and comfortable. They are well furnished and have all contemporary facilities to make you comfortable. The water park is a unique feature here. It has an island, waterfall and poolside bar also a wet deck. The swimming pool is huge. One can go in and out through the artificial beach.
The Patachocas's Eco Resort keeps in mind requirements for kids. There is a nice charming playground and even a doll's house. The Resort provides facilities like baby cots and cribs for your little ones, backup power generator facility so that you get as much comfort as possible, it has fax facility, it also provides wireless internet for your laptops, and also onsite internet facility. It has photocopier facilities and also a gift shop where you can buy mementos for your journey. It has a tour desk and also many bars and swimming pools. Also the mobile phone reception of the area is excellent. The bars are nice and you can vision your life sipping great cocktails. The resort also provides the swimming pool for children, so that they can also have some fun. The restaurants have a large capacity and provide good quality food, they specialize in Brazilian cuisine and the food is indeed very tasty.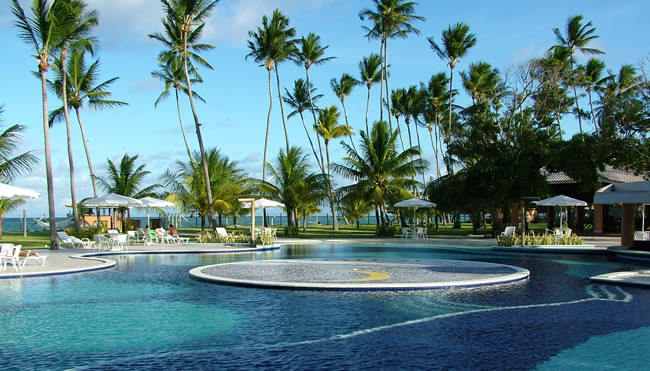 The resort provides excellent services; the hotel staff is well trained and really helpful and also makes your stay as comfortable as possible. Also the languages spoken in the resort are English, Portuguese and Spanish so that your communication isn't lost. The resort also provides paid babysitting facility, doctor and nurses on call, laundry and ironing facilities, security guards for 24 hrs, shuttle service so that your travel is easy and comfortable, and it is included in price, it also has children recreationists in the summer and it also provides Frescobol equipment.
The resort also has many recreation facilities, you can have a game of billiards with your friends, it also has children's playground where they can play with their pals, it also offers massage from well trained masseurs, and it also has a tennis court where you can challenge your friends for a match.
It is surely is the right getaway place to be with all your family in Morro de Sao Paulo. Let us help you with your booking, you won't regret it!
Learn more about Morro de Sao Paulo: List of hotels, packages, tours and much more!
24 de Aug de 2011