The Iracema Othon Palace Hotel in Fortaleza
A closer look at the Iracema Othon Palace located in Fortaleza.
Inspected by our Hotel Expert team.
Iracema Othon palace is situated very close to the center of the city. It is located at the junction of the roads Rua dos Tabajaras, Av Beira Mar and Av Almirante Barroso. The building is quite tall with a peculiar pallet used. Shades like pink brown yellow and green are used. The building is quite eye‐catching. The hotel has a very congenial location. It is 1.6 kms from the Iracema beach, 2.1 km from the downtown Fortaleza, and 5kms from the Futuro beach, 7 km from Pinto Martins international airport and 9.6 km from the Placido Castelo stadium. So the location of the hotel can be said to be very carefully picked out.
The hotel has 140 rooms in all. The rooms are fully air conditioned and are provided with an in‐room safe, a mini bar, a phone, a private bathroom and a satellite television. The room service is provided round the clock and the restaurant serves local cuisine. The price of the hotel is extremely reasonable and the stay is worth the price. The housekeeping department of the hotel is very efficient and maintains exceptionally high level of cleanliness. There is a laundry and dry cleaning service, too, to take care of guests' clothes.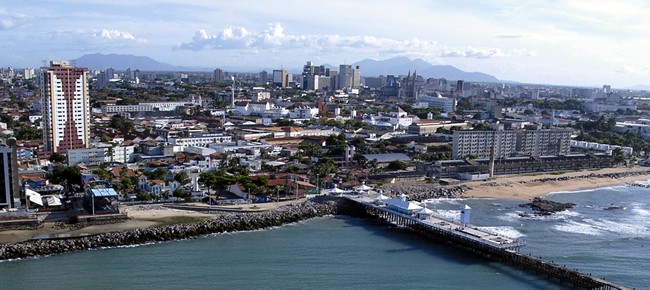 The hotel is quite near to the famous night hangouts so the tourists can live the fun night life of the city enjoying the stay to the core. The interiors of the hotel are neat and practical. The reception has a modern ambience with no such theme in particular, simply beautiful. The hotel has a very warm, efficient and multilingual staff. The whole of the hotel defines alacrity. The bar is far from cluttered the design is chic. The rooms have the same décor with the large part of the interiors draped in pastel colors. The hotel is very chic with sliding doors and dark colors like mahogany and deep black used even for the furniture. The ornamentation being very elementary is still very alluring. The hotel provides the facilities of a gymnasium, a sauna, a parking area and internet service. Surcharge is charged for the net services and parking spots. There is a 24 hour front desk. The hotel is a retreat for the tourists who just want to travel the city or spend a memorable holiday.
Availability of rooms can be conveniently checked online in our website and booking be done using the same. Everyone is assured a wonderful stay at this pretty Iracema Othon Palace, Brazil.
Learn more about Fortaleza: List of hotels, packages, tours and much more!
04 de Jun de 2011