Have you ever thought of a Carnival experience as Christmas gift?
Just imagine. You are exchanging gifts with friends and open yours. Suddenly you are in a Sambadrome grandstand in Rio de Janeiro, Brazil. Or during your Christmas family gathering, you open your gift and is teletransported there. You have a costume on and it is about to parade yourself amongst other performers in the greatest show on Earth. Got the picture? That doesn't have to be a crazy dream. Why don't you give yoursef or to family, friends or that special one such a gift?
Purchasing tickets or costumes to the samba schools parade in Rio is a give-an-experience sort of gift. And that's something everyone should do at least once in a lifetime. Although we know people hardly come only once, so exciting it is. Bookers can assist you to make this dream come alive.
The Sambadrome has many types of tickets for you to choose, given your goals and budget. You can see below a map of the venue.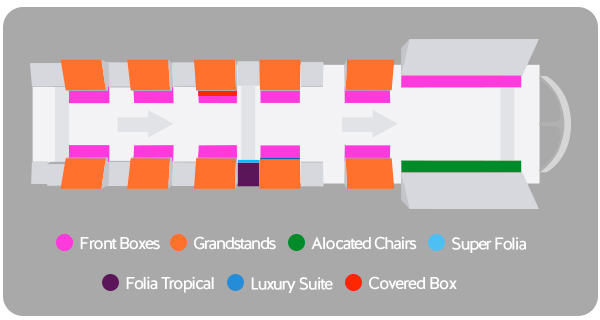 This chart can give you a basic idea about each ticket type: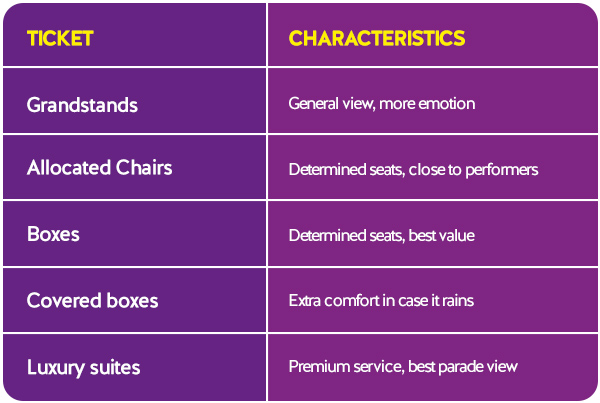 Prices range according to the type and also geographical location along the runway. Most central sectors are usually higher priced than those at the beginning and end of the parade. Payments can be done with credit cards Mastercard, Visa and American Express, or using your PayPal account.
For Carnival 2018, you can choose costumes for the following samba schools: Alegria da Zona Sul and Império da Tijuca (Access Group, parading Friday and Saturday); in the Special Group Império Serrano and Mangueira, presenting on Sunday, Tijuca, Portela, Salgueiro and Beija-Flor, parading on Monday.

Costume sales are subject to availability. You will have to pick it up on the day of the parade at our Help Desk at Hotel Atlantico Copacabana: Rua Siqueira Campos, 90.
The "VIP Service" offers your round-trip transfer to the Sambadrome and a tour guide to assist you every step of the way. It's the most comfortable and convenient option, but you can also buy a costume and get to the Sambadrome by any means of transportation you choose. For example, using the subway, which runs round the clock during Carnival days.
For purchasing tickets: https://www.carnivalbookers.com/
For costumes: https://www.bookers-shop.com/carnival/buy-your-costume.asp
Make Carnival 2018 an unforgettable experience to someone you care about. #ChooseBookers
21 de Dec de 2017