The Belo Horizonte Othon Hotel in Belo Horizonte
A closer look at the Belo Horizonte Othon located in Belo Horizonte.
Inspected by our Hotel Expert team.
Belo Horizonte Othon Palace is located before the Municipal Park in downtown, Minas Gerais. Occupying a prime location, centrally located on the Avenida Afonso Pena, the hotel is surrounded by green parks and lakes of the Municipal Park. It is merely 20 miles from Pamulhas Airport and about 30 miles from Confins airport. It is only one kilometre from the city centre, 7 kilometres from Train station, Praca da Estacao.
Built in twenty five storeys, the hotel has 285 rooms including guest rooms and suites, each maintained faultlessly by a well trained staffs who offer their services with a smile. The hotel rooms are very comfortable and are equipped with all contemporary facilities. Air conditioning, newspapers, telephone connection, cable/satellite television, housekeeping, broadband internet access, everything is at your disposal. The view of the municipal park is pretty soothing to the eye. 24 hour room service is offered for the visitors' convenience. Also, the presence of multi lingual staff ensures that language is not a barrier for your comfortable stay.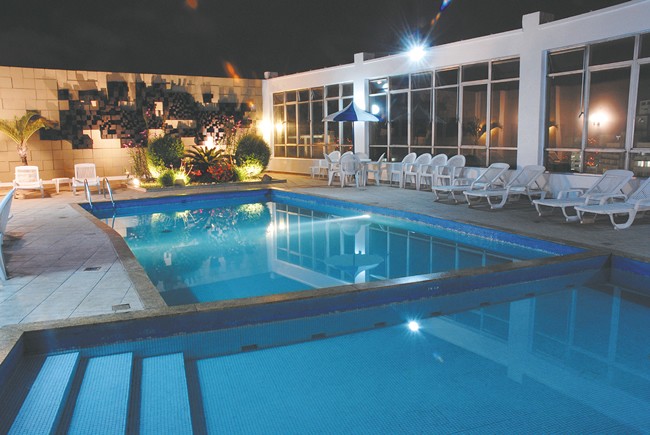 To ensure that families can enjoy as they desire, babysitting and child care facilities are also available. Also one can enjoy in indoor or outdoor pools, dance on the dance floor, shop in the gift shops, go on a binge in Tacho de Ouro restaurant that offers mouth watering international cuisines. Flatter yourself by getting a new look at the hairstylist. One may also decide to tone themselves in the fitness centre. Later relax with a drink at the cocktail bar. You may even relax on the rooftop with your favourite drink ordered from Varandao Bar, get enthralled by the city lights while listening to pleasant Brazilian music. You will never fall short of options when at Belo Horizonte Othon Palace.
For the more serious minded, business centre equipped with A‐V equipment (on demand), wireless internet (at BRL 6 per hour) facility can be availed of. A well equipped convention centre has eighteen meeting rooms on four floors. The hotel proves to disabled friendly by making wheelchairs available. Private parking is available at BRL 25 per day. Worry of cash and valuables can be put to rest by the using the in‐room safe and currency exchange conveniently available. For visitors' convenience, credit cards are accepted including American Express, Visa, Euro, Mastercard and Diners club.
The convenient location, congenial staff, complete facilities; all make sure you have a comfortable stay at the Belo Horizonte Othon Palace, Av. Afonso Pena, 1050‐ Centro, Belo Horizonte, Minas Gerais.
17 de Nov de 2014