The Araras Lodge Hotel in Pantanal North
A closer look at the Araras Lodge located in Pantanal North.
Inspect by our hotel expert team
The Araras Eco Lodge, a calm and homely 4 star lodge is located in the municipal district of Barão de Melgaço, north of Panatanal , Brazil. The entire lodge has been constructed in a rustic and regional manner.
It offers 19 comfortable air conditioned rooms. All the rooms have mosquito netting on their windows and have ceiling fans, too. Each room has attached bathroom with cold and hot shower, a mini bar and a safe.
While enjoying a relaxing holiday in the calm and tranquility of the island, you can also try the delicious food in the resort's on‐site restaurant. The food in the restaurant is freshly made. The menu includes a wide range of sea food, which is a specialty of the region. The restaurant also offers open air seating arrangements so that the guests could enjoy their food while relaxing in the nature and getting soothed by the breeze.
There are many things to be done to make your stay memorable. You can take a dip in the swimming pool. After the swim, you can dine in the large veranda, or choose to lie down in the comfortable hammocks. One can take back gifts for their loved ones from the on‐site gift shop that is very well stocked with local souvenirs. The efficient and multilingual staff will provide you 24 hr room service. They ensure that you have nothing to complain about. Other services like laundry, dry cleaning, ironing etc. can easily be organized upon request. There is also a regular shuttle service to and from the town center.
Guests can also roam around the island with ease as relevant services like rent a car, tourist guides etc. can be booked from the lodge itself. The lodge's excellent location gives an opportunity to the guests to view the beautiful Pantanal North, which is famous for its wildlife reserves, a vast and luxuriant wetland. Such a great diverse wildlife can be found nowhere else. There are a number of rivers too. As it is clear, nature at its best can be seen here.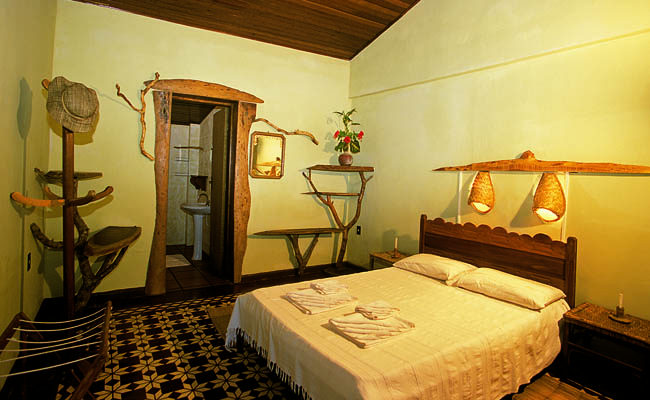 The Araras Eco Lodge is one of the best on the island and is an ideal place to stay while on a vacation here. It's ideal for a leisure family trip, a honeymoon, a romantic getaway or simply a relaxing holiday. Most of the guests visit this lodge again and again and recommend it to thweir friends and loved ones, too. It's great testimony to the superb services, excellent environment and true eco holiday that the Araras Eco Lodge offers.
14 de Nov de 2010