What You Can Do On Angra Dos Reis Tours
If it's your dream to explore and unravel the mysteries of the ocean, Angra dos Reis tours have just the right activities for you.
Angra dos Reis is a beautifully landscaped archipelago with over 2000 beaches and 365 islands which are replete with mysteries and legends. The best way to reach the islands is to travel by boat and experience the crystalline waters in first person. Among the Angra dos Reis beaches and islands, Ilha Grande stands apart for its waterfalls, deserted beaches and trails. It offers fascinating landscapes and 86 beaches which have their own characteristics, besides rivers, lagoons, backwaters, waterfalls, mountains and plains.
Many Angra dos Reis beaches can be accessed only by boat or trails. Jurubaiba, Brava, and Feras are other popular beaches where sport lovers gather to practice surfing and windsurfing. Piedade beach is among the Angra dos Reis beaches which are frequented by families with children. All islands and beaches offer great opportunities for trekking, walks and trails and options include rocky slopes, hills, mountains or beaches.
Angra dos Reis tours organize island trips to places with exotic sounding names such as Porcos, Botinas, and Itanhanga Island which has climbing, canoeing, diving and following trails as the activity options. Angra dos Reis tours can also be covered on land on jeeps and buses to reach beaches such as Praia Grande and Retiro Beach. Waterfalls form an integral part of the itinerary during an Angra dos Reis tour. There are many river rapids and waterfalls in Serra do Mar which are rich in natural beauty and give the visitors a chance to enjoy a cool dip in their waters. You will find that the arduous journey to reach them is well worth the effort.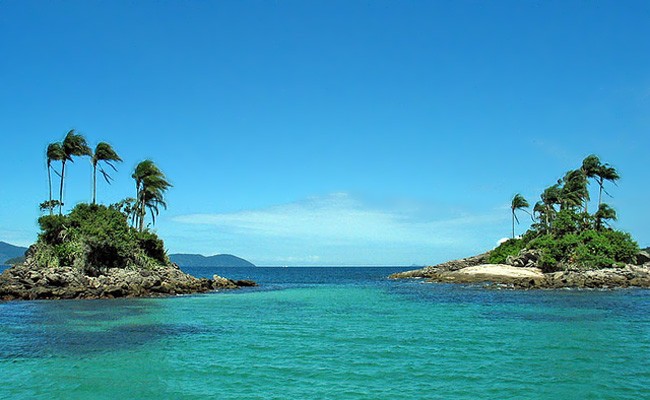 Snorkeling, scuba diving and diving Angras dos Reis tours are the perfect way to explore the depths of the vast ocean. The bay has the biggest concentration of shipwrecks anywhere in the world and conditions for diving are ideal here. The ocean floor has an immense variety of coral, fish and caves which make for some sensational discoveries. Locations like Jorge Grego Island, Naufragios and Dos Meros stand out for this activity.
What activities will you practice on Angra dos Reis beaches?
28 de Nov de 2010