What To Expect At Arraial Ajuda Bahia
Light breezes, soft sands, and a quaint village await the visitor to Arraial Ajuda Bahia.
Arraial Ajuda bahia is part of the city of Porto Seguro located on the eastern coast of Brazil. The district is unique, in that no new construction is allowed and the historic homes that are already in the area cannot exceed two stories, so renovations are restricted.
Arraial Ajuda Bahia is a primary church called Our Lady of Help. It was constructed in 1549 when the Jesuit missionaries arrived in the area by sea on their three ships Conceicao, Salvador and Ajuda. Sugar cane and cocoa were popular through the 1700s and helped increase the population in the area. The church also became a site for pilgrimages in worship of Our Lady of Help who appeared before an elderly woodsman. There is also a miracle spring that burst forth during the building of the church. As a result of these events the church became a center of worship and religious interest.
Arraial Ajuda Bahia is also famous for its diverse ethnic cuisine. Travelers can enjoy a hearty steak one night, then seafood the next night and Thai, for lunch the following day. Many of these restaurants also have bars and live music to drink and dance the night away.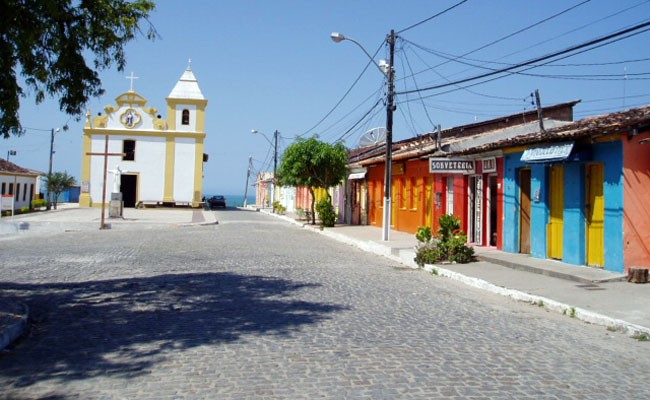 Beaches in the area are another prime attraction. Located on the Mucuge River is Mucuge Beach. Pitinga Beach is quite close to downtown and its warm water, soft white sands and towering cliffs make this one of the most beautiful in the area. Other beaches in Arraial Ajuda include Apagpa Fogo, Delegado and Lagoa Azul.
Arraial Ajuda bahia also has several tourist attractions aside from the church including many craft shops. Mucuge Street is the main lure for tourists with art galleries, restaurants, small shops and bars. It can be quite lively at night as the city has become a melting pot for many artistic individuals who are able to combine the modern with the historic characteristics of the city. Recently, the indigenous Pataxo Indians have returned to Arraial Ajuda bahia and are making a bid for the eco-tourists with their "back to nature" tours. Isn't it time to book your flight and visit one of the most beautiful coastlines in Brazil?
05 de Nov de 2010