Watching The Carnival Parade Rio Live
With the grandest flamboyance and the most bootylicious Brazilian beauties, the Rio Parade is an out of the world experience!
Catching all the Rio Parade action which is broadcast worldwide on TV may be cool, but it's nothing compared to the electrifying experience of watching it live from the stands in the Sambodromo. You not only get to interact and dance with the crowds during Carnival Parade Rio, but you may also perhaps join in a Samba School's March. On Carnival Sunday and Monday, twelve special groups march forward, six on each night. The proceedings of Rio Parade start at 9 pm and carry on nonstop throughout the night, drawing to a close only at 6 or 7 am the next morning. It's not just a display – it involves some intense and fierce competition amongst the schools. Every year a group is upgraded from the Access Group to Special Group and vice versa. Each year, samba schools choose different themes for Carnival Parade Rio. You will find nearly 3000-5000 members in each school and between 6-8 floats belonging to them. All the various costumes and floats are made from scratch every ear and are completely original. All schools have 60-75 minutes to showcase their theme and displays on the runway.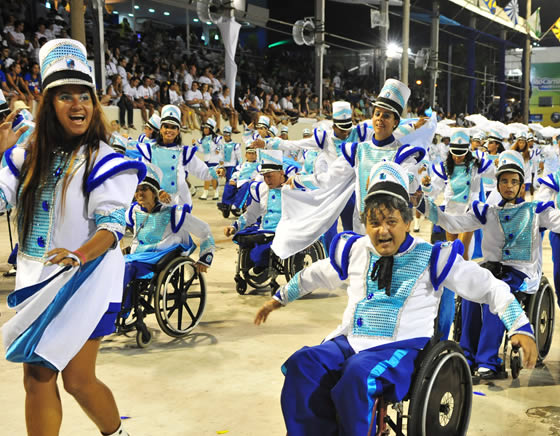 A panel of experts, who are appointed by LIESA, judge the proceedings of Rio Parade. Six schools that get the best scores are given the honor to participate in the coveted Winners Parade that takes place on the Saturday of the following week. Schools are divided into sections or wings called alas. Performances are elaborately choreographed and may have professional dancers. The floats are specially decorated, sometimes having special effects and carry guests decked up in luxurious costumes. The entire Carnival Parade Rio is set to music by the percussion band with the puxador being the lead vocalist. The floats must move smoothly, without any hitches or blank spaces. Group and Evolution are some of the other aspects taken into considering by the judges. What's your take on catching all the Rio Parade action live? Want to learn more abou Rio's Samba Schools?
28 de Jun de 0201
1 COMENTÁRIO