The Vila Gale Mares Hotel in Praia do Forte
A closer look at the Vila Gale Mares located in Praia do Forte.
Inspected by our Hotel Experts.
Vila Gale Mares is an absolutely exotic hotel in the beautiful Praia de Guarajuba, 12 kilometres from Praia do Forte. It is a mere 42 kilometres from the Salvador international airport. The location is ever the more special as it is set right between the sea and the Guarajuba lagoon.
It offers 447 accommodation units, including 74 chalets and 18 superior chalets, all well equipped with the contemporary facilities and served by well trained efficient staff. The rooms are comfortably air conditioned. They have telephone and cable television; two things everyone needs so often. From the little alarm clock to the ever important internet access; you get it all. The bathrooms are also fully equipped. The furnishings are well done and share the same feel of nature. There are special rooms for the disabled. The décor inside out is perfectly blended with the natural topography, which is surely more than just beautiful. In fact, the hotel is made by perfectly natural materials.
This comparatively new destination gives you 200000 square metres of unspoilt beauty at your disposal. The luxurious bungalows are one thing to marvel about. The staff is equally to be credited in making your stay a successful one. They are always ready to serve you with a smile. You will surely want to take a dip in the giant swimming pool here. It is a nice way to spend the day lapping away in the water to glory. Else one can also pamper oneself in the spa. A wide range of body treatment and massage services give you complete relaxation. So those who are escaping from the busy everyday life will have a really nice time.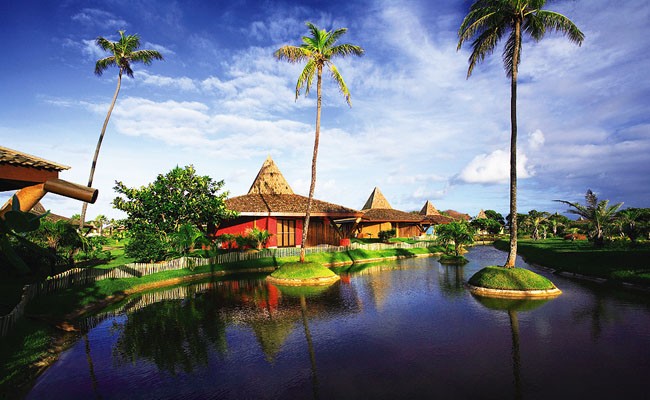 Food lovers will surely be more than satisfied by the range of cuisines offered. 'Tent of Miracles' serves international cuisines. 'Cravo e Canela' is the beach restaurant that gives you the option of munching your favourite snack while soaking in the sun. 'Bar inevitable', 'Disco bar Soul and Blues', 'Jubiaba' are bars to offer you the choicest drinks.
Water lovers will have a smash enjoying diving, wind surf, sailing, kayaking, kite surfing, body boarding, snorkelling and surfing; all to their heart's content.
One has the option of playing tennis or working out in the gym, playing volleyball, going for a bicycle ride, enjoying an ecological stroll and many more things to keep you entertained.
Vila Gale Mares is the best place to explore the charming town as well as have a wonderful vacation in Brazil.
31 de Jul de 2011