The Vila Gale Eco Resort De Angra Hotel In Angra Dos Reis
A closer look at the Vila Gale Eco Resort de Angra located in Angra dos Reis.
Inspected by our Hotel Expert team.
Vila Gale Eco Resort de Angra, is situated in a picturesque part of Angra, about 150 kms from Rio de Janeiro, Brazil. Standing prettily in midst of nature's beautiful greens and before the calm waters, it completes the picture of what one has in mind of a beautiful vacation. Consisting of 114 double rooms, 12 suites, 193 twin rooms, 11 meeting rooms, pretty playgrounds, parking garages, restaurants, sauna, discotheque, fitness centers, separate smoking and non smoking rooms and every facility under the sun; you will be left with nothing to complain about. Each room has veranda view of either the sea, swimming pool or the Atlantic forest. The rooms itself have one king bed or two twin beds, balcony and all the modern luxuries including air conditioning, television, telephone lines, soundproofing, wired high speed internet access; bathrooms with separate bathtubs and showers, hair dryers, bathroom phones; everything to make sure you are comfortable.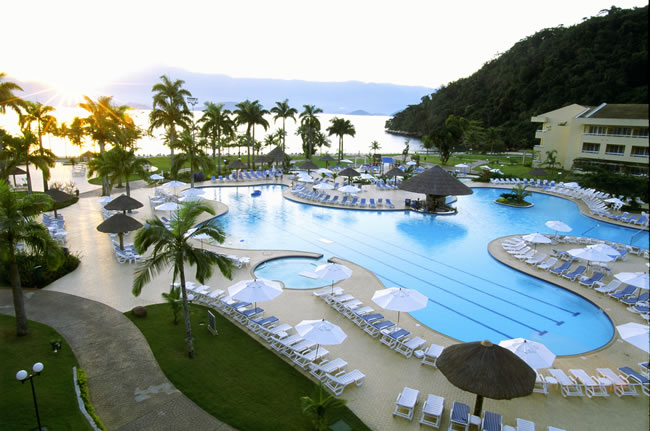 To ensure that language is not a barrier to your enjoying  the vacations, Vila Gale eco resort provides you with well trained multilingual staff. They are ready to  give you a warm welcome 24 hours, provide excellent housekeeping, cater to your laundry, provide  wake up service, supervise child care and ensure your safety. The arcade game room, children's  club, fitness facilities, full service health spa, tennis court, shopping venues, and sauna will keep you entertained all day long. For nocturnal guests the nightclub is sure to make the twenty four hours seem  too short. For serious activities, conference rooms, meeting rooms, secretarial services, event catering,  audio visual equipment, banquet facilities and technology help desk are also available. Travellers need not keep worrying about cash and valuables; each room has an in room safe to take care of them.
Vila Gale Eco Resort accepts credit card payments including Master Card, American Express, Visa, Diners Club and Electronic cash. The comfort of the vacation may compel you to laze around, but if you are in a mood for fun, the billiard table will welcome you with open arms, or you may dance and have fun in the ballroom, or go on a binge in the barbecue and bar cum lounge. Families with kids may have a nice time in the picnic area enjoying the scenic beauty. One may seek resort in the world of books in the library.
To completely enjoy, you may want to avail to the aerobics facilities, boat launch, motor boating, tennis, volleyball, water skiing or kayaking facilities on site, or go on an ecotour to get closer to nature. Angra dos Reis has a lot to offer and the best way to enjoy them is by staying at Vila Gale Eco Resort, Alderman Road Benedito Adelino, 8413, Farm Tangua, Angra dos Reis.
Learn more about Angra dos Reis: List of hotels, packages, tours and much more!
15 de Jul de 2011