Unidos Do Porto Da Pedra – 2011 Rio Carnival Samba School Series
Learn the Samba and Synopsis of Unidos do Porto da Pedra Samba School for 2011 Rio Carnival
Synopsis for 2011
Theme: " O sonho sempre vem pra quem sonhar" (Dreams always come to those who dream)
Porto da Pedra will honor the life of the author Maria Clara Machado, a brazilian playwright that created 27 plays for children. Some of these plays were translated to other languages and played overseas. Porto da Pedra's theme will bring dreams and imagination to life through many of the amazing plays created by Maria Clara. Porto da Pedra School is sure to put a magical show in 2011.
Wanna parade with Porto da Pedra? Get your Costume now!!!
More About the Unidos do Porto da Pedra
Porto da Pedra Porto da Pedra means "port of stone".  This Samba school of hard knocks has had a tough go of it the past 10 years or so. A relatively young school with a tiger as its symbol it shows its ferocity in competition and is currently working hard to regain its notoriety as a top Samba school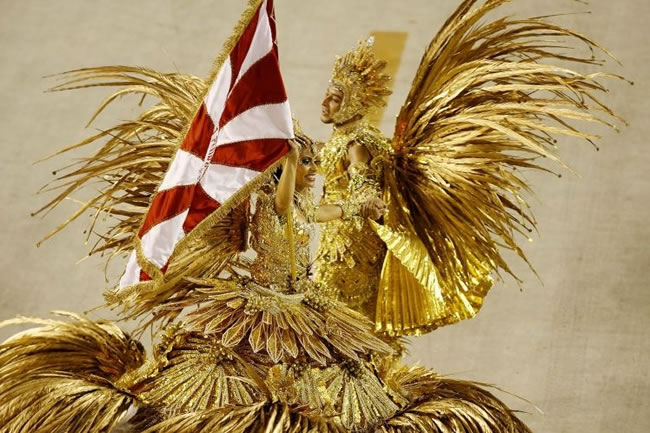 Theme for 2011: O sonho sempre vem pra quem sonhar …
Parading Date and Time: 3/7/2011 1:20:00 AM
Colors: Red and White
Rainha (Queen): Valesca Santos
President: FRANCISCO JOSÉ MARINS
Carnival Art Director: Paulo Menezes
Book your ticket to Rio carnival and watch Porto da Pedra parading!
Download the Song for 2011, Learn More about Unidos do Porto da Pedra
01 de Jan de 2011