Unidos da Tijuca – 2011 Rio Carnival Samba School Series
Learn the Samba and Synopsis of Unidos da Tijuca Samba School for 2011 Rio Carnival
Synopsis for 2011
Theme: "Esta noite levarei a sua alma" (This night I will  take your soul)
The winner of 2010's parade, Unidos da Tijuca is expected to amaze and scare the audience with the theme of death and the fear of death. Unidos da Tijuca school is known for it's boldness and innovation and it won't be different in 2011. Jose Mojica Marins will be the highlight in this year's  parade, known for being the king of Brazil horror, Jose or simply Ze do caixao (Coffin Joe) will be participating in the parade as well as his movie, "At midnight I will take your soul", a 1963 production was the inspiration for Unidos da Tijuca's theme. Although the theme seems kind of creepy, Unidos da Tijuca  school  promises a great show full of enjoyment to the cheering crowd.
Let's parade with Unidos da Tijuca!!! Book your Costume now!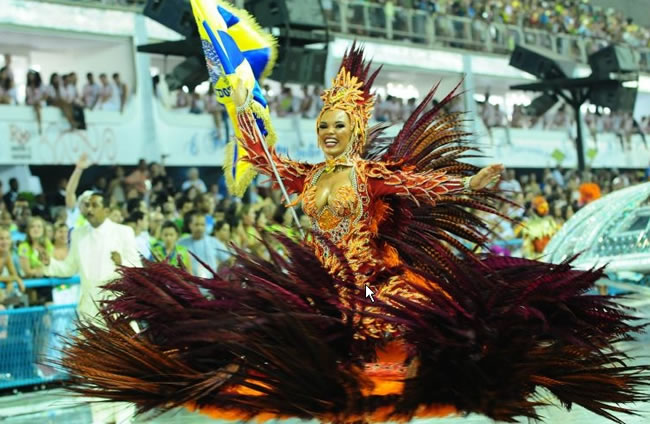 More About the Unidos da Tijuca
Unidos da Tijuca The 2010 champions, Unidos da Tijuca  stands out from its counterparts in that it is known for its tolerance and acceptance of all who wish to join the school  regardless of religion or cultural background. They are considered one of the most elite schools along with Beija-Flor, Salgueiro, Mocidade, Portela and Mangueira thanks to their strong financial  backing and leadership.
Tickets to enjoy the parade? Here!
Theme for 2011: Esta Noite Levarei Sua Alma
Parading Date and Time: 3/6/2011 12:15:00 AM
Colors: Blue and Yellow
Rainha (Queen): Adriane Galisteu
President: FERNANDO HORTA
Carnival Art Director: Paulo Barros
Book your hotel for Rio Carnival 2011!
Download the Song for 2011, Learn More about Unidos da Tijuca
06 de Jan de 2011