The Tiwa Amazonas Ecoresort Hotel in Manaus Jungle
A closer look at the Tiwa Amazonas Ecoresort located in Manaus Jungle.
Inspected by our Hotel Expert team.
Tiwa Amazon resort is beautiful resort on the banks of Rio Negro, Brazil. It is about 10 kilometres from Manaus. Surrounded by the Amazon forest and a lush green ground of its own, the place transports you to a new world. The clear blue waters of the lake nearby add to the picture postcard effect.
Twenty six wooden cabins are built on stilts around the natural lake. The dining area is open air under a huge thatched roof. Wildlife and flora is seen in abundance. Each cabin houses two rooms. The bedrooms are comfortably spacious double rooms, made of beautiful sturdy wood. It is prettily furnished with local materials. The jungle room is most ambient and comfortable with its high ceiling and décor. The French windows look really befitting. This leads you to a large patio. The bathrooms have hot shower facility. The natural sense feeling of the lake has been preserved. Set amidst woods, in a wooden adobe gives a unique experience you get nowhere else. Luxury among nature is excellent. You get all the contemporary facilities.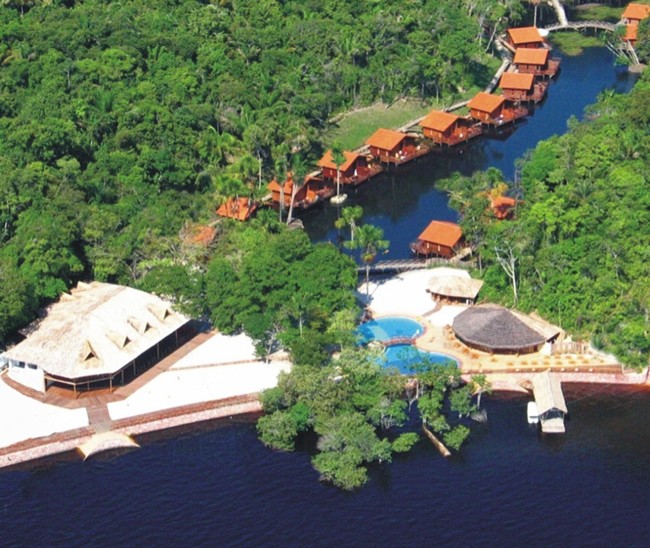 The room fare includes breakfast, lunch and dinner. So gastronomy need not be worried about at all. You get amazing food which more than just satisfy your taste buds. Special programs can be easily organized. One can participate in trekking, survival tours, tree top tours, outdoor games, rock climbing and much more. One can also learn native crafts customs if they so desire. Nature photographers will have a field day here for sure. Water sports activities are also an option here like water games, canoeing and water bikes. Theme programmes are also there like dancing lessons, Brazilian crafts and nature lessons.
The staff is commendable. They are well trained and highly efficient, always ready to cater to your needs with a smile. They ensure that you have nothing to complain about. Every small and big thing is taken care of. The brilliant closeness to nature will surely amaze one. Kids especially love to see the exotic beauty. For adults, it is a nice pleasant change from the everyday life. They get peace and tranquillity as well as a sense of adventure here. Manaus is a fabulous place to explore and Tiwa Amazon resort is the right place to do it from.
Learn more about Manaus: List of hotels, packages, tours and much more!
14 de Nov de 2014