The Txai Resort Hotel in Itacare
A closer look at the Txai Resort located in Itacare.
Inspected by our Hotel Expert team.
The Txai Resort is an exquisite resort in Itacare, Bahia, Brazil. It is about 400km from the city of Salvador and one hour drive from Ilheus. The resort blends perfectly well with the natural surroundings and provides comfort and privacy. The hotel has 40 rooms including 14 standard and special rooms and 26 individual bungalows. Each is fully‐ furnished and all have an attached bathroom. They are fully equipped with all contemporary amenities including air conditioning, mini bar, cable television and telephone. The decor of the bungalows comfortably blends with the charming simplicity of Brazil with maximum comfort. A well trained and highly efficient staff is always at your service to cater to your needs with a smile.
While enjoying a relaxing holiday in the calm and beauty of the island, you can also try the mind‐blowing food in the hotel's on‐site restaurant. The restaurant is surrounded by palms and serves many local delicacies as well as more international cuisine. It also has a wide variety of local as well international drinks and cocktails.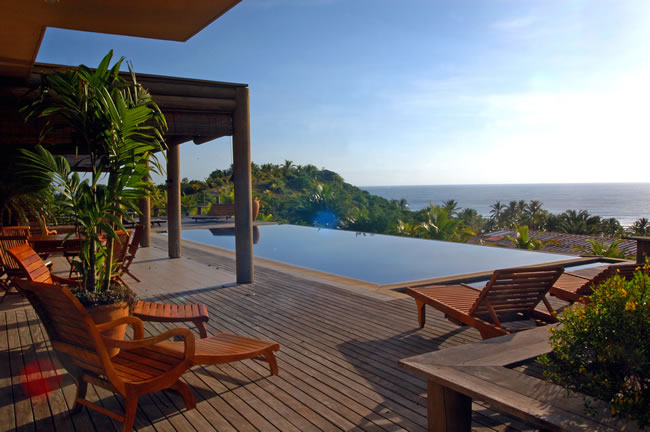 Guests who prefer to enjoy the in‐house facilities instead of going on outings, will surely appreciate the facilities offered by the hotel to make their stay a memorable one. The hotel boasts two swimming pools. The 25m long swimming pool steps from the beachfront. It also has children's pool, TV and internet access, non‐smoking rooms etc. Sports lovers can enjoy two illuminated tennis courts. Guests also have the option of pampering themselves at the spa. You can go off canoeing if you so feel like. Another great option is eco‐tourism. Also you may have fun fishing or horse back riding. Apart from that, one can enjoy nature trails. Water lovers can enjoy snorkeling, surfing, swimming and water rafting. There is a lot to do for everyone!
For outings, the hotel has the facility of booking travel guides, personal cars or bicycles to view the beautiful city of Itacare. Itacare is a dream destination for surfers and eco tourists. The town has a number of pretty beaches.
So, if you are planning a leisure trip, fun holiday or a honeymoon in near future, consider Itacare, Bahia, Brazil as a destination as it is surely going to satisfy your needs because of its diverse attractions. And, while in Itacare, very few resorts can match the conveniences and comfort offered by the Txai Resort. Most of the guests who have stayed at the resort in the past vehemently recommend it to their colleagues and friends.
18 de Jul de 2011