The Sofitel Rio de Janeiro Copacabana Hotel in Rio de Janeiro
A closer look at the Sofitel Rio de Janeiro Copacabana located in Rio de Janeiro.
Inspected by our Hotel Experts.
Sofitel Rio de Janeiro Copacabana, the most prestigious hotel of Rio de Janeiro, Brazil, welcomes you all to have a memorable stay at their hotel this holiday. Located on the famous Copacabana Beach, and the Ipanema beach on the other side, an outside view of this Five Star luxury hotel itself will make you spellbound. Sofitel Rio de Janeiro Copacabana, Rio de Janeiro is located at 21 kms distance from Antonio Carlos Jobim International Airport) (GIG).
It is famous for its classy accommodations. It has 388 rooms with private balconies of which 66 rooms have additional Club Millesime services. The guest rooms and suites are categorized into – Classic Room, Superior Room, Superior Room Club Sofitel, Luxury Room, Luxury Room Club Sofitel, Junior Suite and Prestige Suite.
The rooms are neatly set and complete with a Plasma Cable TV and a DVD player and a radio for entertainment, a mini bar for refreshing, Wi‐Fi and High speed Internet Connection. The bathroom has the facility of a hair dryer, a make up / magnifying mirror and a telephone.
From safety point of view the rooms have been equipped with audible smoke alarm, security peephole, deadbolt and a safe deposit box. The entire hotel is in fact safe and secure, with 24 hours on alert security staff, Video Camera at the building entrance, Video Surveillance in hallways and smoke alarm in public areas and the hotel fully complies with the Hotel Safety Act 1990.
For health, fitness and leisure you have the Fitness centre, the Massage centre, an Outdoor pool, Sauna and a Solarium.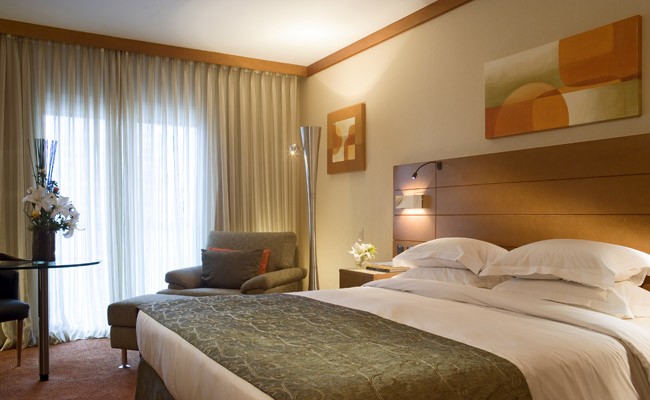 Dining here is not just filling up your stomach. It's a means of relaxing, socializing and relishing. The Restaurante Atlantis located in the first floor has an exotic background view of the Copacabana Beach and offers international cuisines in thematic lunch and a la carte dinner Sofitel Rio de Janeiro Copacabana has to its credit of having one of the top 10 hotel restaurants in the world as stated by the Hotel World Magazine. It is the Le Pre Catelan restaurant with peppy décor and the view of the Copacabana Beach which offers a French Menu.
For lighter mood and refreshment you have the Horse's Neck Bar which is designed in a typical African style and has on offer varieties of tapas and Belgian Beers. You can sip down a drink or just munch some snacks while enjoying the musical entertainment and the striking view of the Copacabana Beach. With due respect to the disabled guests, they have the ramp access and other special facilities for their comfort too. There are the non smoking floors too which can be opted for the non‐smokers.
Enjoy, relish and relax at Hotel Sofitel Rio de Janeiro Copacabana
14 de Aug de 2011