The Sheraton Barra Hotel & Suites Hotel in Rio de Janeiro
A closer look at the Sheraton Barra Hotel & Suites located in Rio de Janeiro.
Inspected by our Hotel Experts.
The Sheraton Barra hotels and suites is one of the finest and the most famous hotels in Rio de Janeiro, Brazil. Within a walking distance to most of the attractions in this charming town, the hotel proudly stands in a very convenient location, close to the heart of Rio, a mere eighteen miles from the international airport.
The hotel is architecturally magnificent too. Being a V shaped, all the rooms have a very nice view. Sheraton Barra offers 292 rooms in all. Each is fully furnished and efficiently served by a well trained staff. The rooms are comfortably air conditioned. You get a television for your entertainment. Uniquely, you are provided with a coffee cum tea maker. The beds are very comfortable. You even have high speed internet connection so that you may stay connected and keep updating your friends about the delightful stay. The safety deposit box helps you stop worrying about carrying your cash and valuables. The bath/ shower is also comfortably spacious and well equipped. There is a refrigerator too. Every small requirement like that of a hair dryer too is taken care of. There is a small kitchenette too.
Guests can have a gala time outside. The hotel is situated right on Barra da Tijuca beach and is very close to the Ipanema beach. Both of these are pretty famous and worth a stroll if not completely getting lost into them. Water lovers can go surfing, snorkelling, diving and a host of other water sports.
In case one decides to spend the day inside, there is more than enough to keep you busy. You can choose to take a dip in the swimming pool. Or you may prefer sipping your favourite drink. You could also play golf at the golf course. One can pamper oneself at the massage or beauty centre. They help completely rejuvenate your senses. Fitness freaks can work out in the fitness room or gymnasium. There is medical assistance available in case one needs them. To stay in touch with the world, newspapers are available in the news stand. Food lovers can enjoy in the on site restaurant. There is the sauna again to pamper you. The tour desk will help you plan outings. In case one wishes to party, there are banquet facilities available. There is special for the disabled.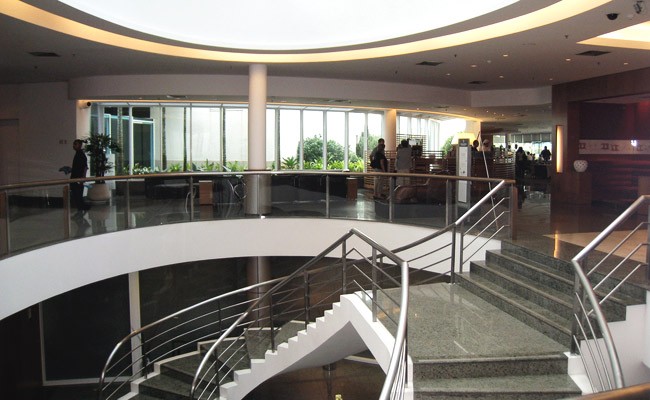 You get a range of services apart from the luxury amenities. Starting from laundry to florist; parking to travel agents; 24 hour room service with a smile; it is all there for you at Sheraton Barra hotels and suites, Rio de Janeiro, Brazil.
22 de Jul de 2011