The Sao Clemente samba school: beautiful irreverence
Discover what makes Sao Clemente stand out from the crowd.
We all know that the Rio Carnival is a fun and amazing presentation of dance, music and a whole lot of color and energy. However, it does not have to be pointless.  Every year, a theme is presented to the samba schools in which they have to do their presentation with this theme. One school is capable of infusing political and social issues into one spectacular presentation of lights, sounds, dance and songs. Sao Clemente samba school is well known for its irreverent but meaningful presentations. Sao Clemente is the only school found on the South Zone of Brazil. With the colors black, yellow and gold, their presentations are really captivating, arresting and meaningful.
The Sao Clemente samba school was formed in 1984. It has a very modest start but it really stirred up publicity in 1984 when it created an anthology about the horrifying traffic conditions across Rio de Janeiro. By 1985, their thrust was the lack of housing across Brazil. By 1987, Sao Clemente created an anthology about those children who are left homeless in the streets. All of these themes may seem very harrowing and all too complex to be fun but Sao Clemente samba school never fails to transform it into a spectacular and meaningful samba performance that is always a crowd favorite.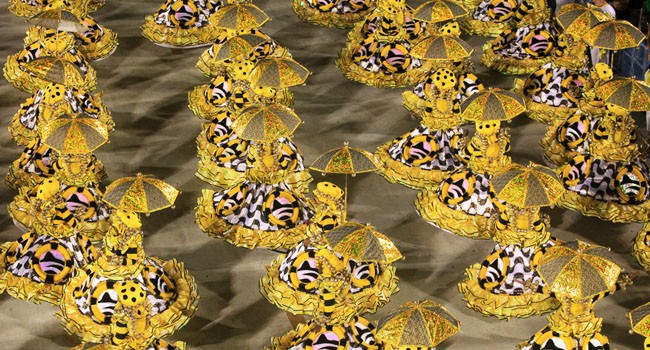 For Sao Clemente, the Rio Carnival begins in the creation of the song in which will be used for the creating of the routines that will be played in samba music. The theme will be extracted and manipulated into amazing costumes and decadent floats. From the smallest details to the biggest aspects, Sao Clemente samba school takes its presentation to a higher level of political and social awareness that is quite interesting, fun to watch and undeniably a great presentation to appreciate and to take part of.
29 de Aug de 2014