The Porto Seguro Praia Hotel
A closer look at the Porto Seguro Praia located in Porto Seguro.
Inspected by our Hotel Experts.
Porto Seguro Praia is a comfortable and luxury hotel located in front of the Curuipe beach, porto Seguro, Brazil. It is a mere four kilometres from the international airport and only six kilometres from the city centre. This makes it very convenient to be reached by international visitors.
The hotel offers 150 accommodation units to choose from. They range from standard rooms to suites. Each is luxuriously furnished and well equipped with all the contemporary amenities to make you comfortable. They are well air conditioned. Television is provided for your entertainment. Telephone is also there for your convenience. The safe ensures that you do not have to worry about the cash and valuables any more. There is a mini bar too. You can enjoy well with piped music playing in the background. You enjoy en suite bathroom that has taken care of small needs like hair dryer too. The rooms are served by well trained highly efficient staff. They are always ready to cater to your needs with a smile. They ensure that you have nothing to complain about.
A number of facilities are at your disposal here at Porto Seguro Praia. You can take a dip in the swimming pool or play a game of tennis. Then there are multi sport courts for sports lovers. Here you can play soccer, zoom on bikes or run on the jogging track. Fitness freaks can work out in the gymnasium or the fitness centre. One can pamper oneself in the sauna or get a massage or massotherapy done by specialised professionals. The hotel features bars and pubs to add some spice to the stay. Car parking lets you park your car safely.
One can chose to walk down the hotel to visit a number of attractions and ecological activities like surfing and snorkelling. You can explore the city's pretty places too. You can also simply dance the night away at the lively night clubs.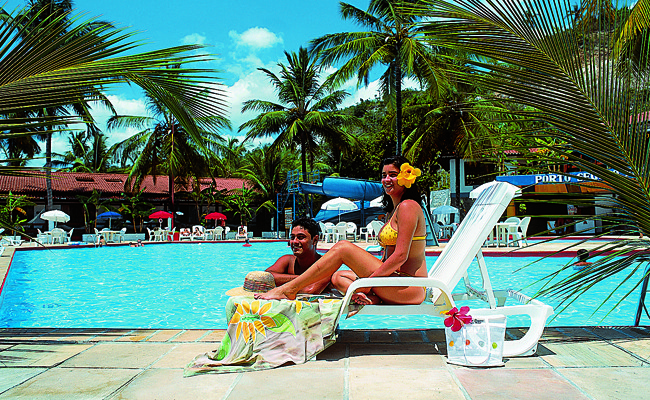 Food lovers are sure to have a great time too. The onsite restaurant offers a large range of cuisines ranging from local traditional to international dishes. The bars too let you sip your favourite drink and have a gala time. The Nau Cabral bar presents some of the finest tropical drinks. Availability of rooms and their prices can be conveniently checked using the internet and bookings be done using the same when you wish to pay a visit to Porto Seguro Praia, Porto Seguro, Brazil.
01 de Nov de 2010