The Pestana Angra Hotel in Angra dos Reis
A closer look at the Pestana Angra located in Angra dos Reis.
Written by our Hotel Expert team.
Pestana Angra is an exquisite five star hotel situated in the splendid surroundings of Angra Dos Reis, nearby Rio de Janeiro, Brazil. The 28 luxurious bungalows offer you everything to make your stay more than just comfortable. Keeping you entertained with the modern luxuries, it brings you closer to nature at the same time, offering the breathtaking sea view. 24 hour room service makes you feel like the king and so will the food at the Cais de Ribeira restaurant, located at its poolside. In case you chose to rest and not to go out of your room, there will be enough to keep you smiling, what with the air conditioning, cable TV, DVD and CD players, high speed internet. If you chose, Jacuzzi and sauna will also be at your disposal.
Again, if you have come to enjoy outdoor airs, the swimming pool, fitness centre,  Shishindo Nature Spa Zen, game room, water games, mini bar; will give you value for your money doubtlessly. The pool bar will intoxicate you not by the drinks but by the splendid view of the Angra Dos Reis bay. True, who wants to be serious, but in case you want to have an important private chit chat, meeting rooms are available for those who like to get serious once in a while. The pretty ladies need not worry about carrying hair dryers as they are well taken care of at the Pestana Angra. Whether you are travelling with family or out alone to have fun, you need not bother about laundry, just ring the bell and it is taken care of. Travellers have always to worry about their valuables and cash; not at Pestana Angra, as you even have safe deposit boxes at your disposal.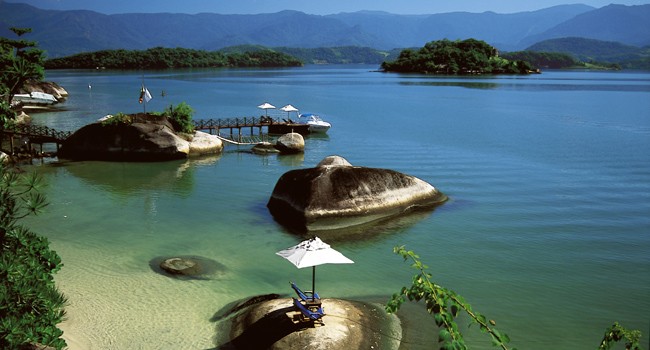 Not only honeymooners can have lovebird moments here but so can couples with kids, yes, you get babysitting facilities too. The resort can also plan fishing trips for you or arrange for sailboat rentals, waterfall excursions and 4*4 jeep outings. After all, it is not everyday that one gets out enjoying.The gorgeous location, luxurious amenities, breathtaking sea view; all make your stay worth the time and money. Visitors have always given it a  thumbs up and will vouch that they leave smiling, keeping happy memories of their stay with them.
Get to know other hotels in Angra dos Reis. Learn more about  Angra dos Reis. Would prefer a package including hotels in Angra dos Reis?
30 de Jun de 2011