The Ouro Minas Palace Hotel in Belo Horizonte
A closer look at the Ouro Minas Palace located in Belo Horizonte .
Inspected by our Hotel Expert team.
Ouro Minas Palace Hotel Belo Horizonte, a part of the Gold Mines hotels and resorts, is deservingly the only five star hotel in Belo Horizonte. Strategically located near the downtown Belo Horizonte, surrounded by Curral mountain range, it is easily accessible from Pampulha airport (7 kilometres) and International Airport Confins (35 kilometres).
Comprising of 25 floors, the hotel boasts of 298 apartments (130 standard and 168 deluxe), 42 suites and 3 presidential suites; Ouro Minas Palace provides you luxury worthy of a palace, living up to its title. All contemporary facilities are available in the room, taking care of minute details like even a pillow menu. You get a luxurious working area, comfortable air conditioning, and data port for internet connection, wardrobe facilities, anti allergic apartments, cable television, mini bar, personal electronic secretary, CD player and everything to make you comfortable. Pretty ladies may wish to pamper themselves in the beauty parlour. Other facilities include parking with manoeuvre service, special attendance for groups. 24 hours room service and well trained staff who serve with a smile will surely bring a smile to your face. You may ask for special Eastern treatment that will make those from other side of the world feel at home.
Make your stay a relaxing and rejuvenating experience; recharge yourself at the thermal pool, steam sauna, hydro massage, cascade. Have fun in the game room, stay fit with your personal trainer. Taste the global cuisine at one of their finest restaurants, sip a cocktail at the piano bar. Considering that safety is of utmost importance, Ouro Minas Palace lets you stay worry free by the alert security team, internal TV, 24 hours medical attendance and ambulance facilities.
In case you have come here for serious purposes, Ouro Minas Palace offers you bilingual secretary service, Wi‐Fi technology, copy machine and fax services, meeting areas, computers and broadband internet.
Traveller's greatest worry of cash and valuables are easily put to rest, courtesy individual safe boxes, banks, ATM machines. One terminal is connected to Banco da Brasil‐ Visa International, and the other to 24 hours net.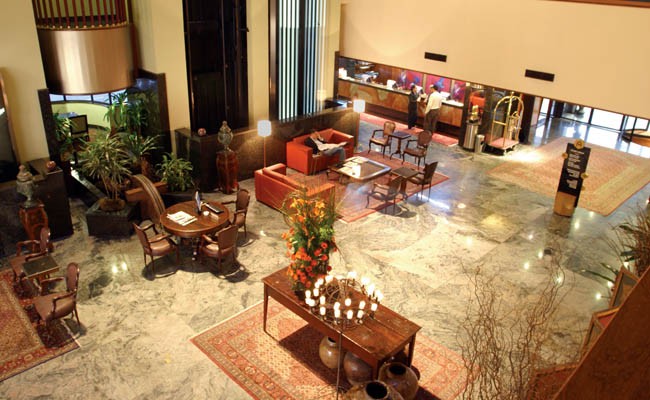 A luxurious, tranquil stay is assured at Ouro Minas Palace. You get the opportunity to live life king size in your very own palace. Availability of rooms can be easily checked using the internet and booking can be done using the same. Whether you are here for travel or business purpose, complete satisfaction is assured.
24 de Nov de 2010