The Oasis Atlantico Imperial Hotel in Fortaleza
A closer look at the Oasis Atlantico Imperial located in Fortaleza.
Inspected by our Hotel Expert team.
Oasis Atlantico Imperial is a majestic 5 star hotel situated in Praia do Meireles, in the beautiful city of Fortaleza,Brazil. The city is worth a visit. It is a modern metropolis. The blue sea, white beaches and warm friendly people give you more than one reason to one and enjoy here.
The airport is a mere twenty minutes from the hotel making it convenient for international travelers. Public transportation is easily available around here to make it convenient for you to explore the town. The hotel offers in all 136 rooms that include ten suites and two presidential suites. Each is luxuriously furnished and has great ambience. It shares the same building with The Oasis Atlantico Hotel which is the four stars section of the same building. Gastronomy is commendable here with traditional dishes as well as international cuisines. One can sip their favorite drink in the stylish lobby bar too. The staff is well trained and highly efficient and always ready to serve you with a smile. They ensure that you have nothing to complain about.
The swimming pool invites you to take a dip. Kids as well as adults can have fun here. The wet bar lets you drink your drink after the refreshing dip. One also gets access to the internet to stay connected and keep updating about their wonderful stay. Keeping you entertained with the modern luxuries it brings you closer to nature at the same time, offering the breathtaking sea view. Services like laundry/ironing, room service, shuttle service (i.e. to / from the town centre). For fitness freaks and tech savvy people, the hotel has a lot to offer including gym, aerobics, satellite TV. The hotel provides a warm and welcoming service of international standard and has a well‐trained and educated staff. They are well trained and highly efficient and always read to serve you with a smile. Almost all major credit cards including, Amex, Diners Club, MasterCard, VISA are accepted for your convenience. Arrangements for sight‐seeing and further travel packages including tourist guides can be made from the hotel itself.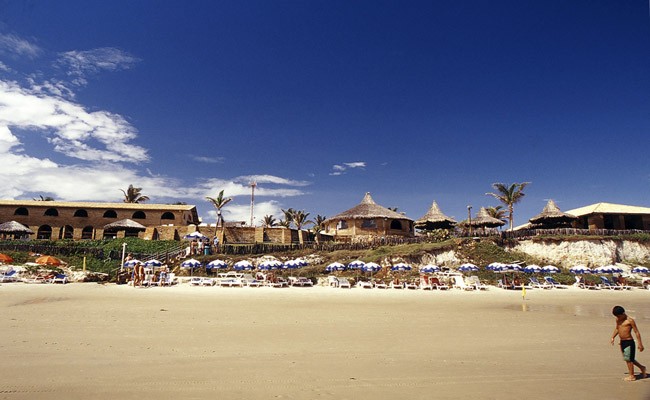 Guests have always given it a positive response and have thanked the hotel staff for their memorable stay. Availability of rooms and their prices can be easily checked with the click of a button via the invaluable internet and you can make your bookings online. Always try to book your rooms in advance. Happy Journey!
See our recommended hotels in Fortaleza.
20 de Nov de 2010