The Jatiuca Hotel in Maceio
A closer look at the Jatiuca Hotel located in Maceio.
Inspected by our Hotel Expert team.
Jatiúca Resort Hotel is an exquisite hotel in Maceio, Brazil. It is a mere twenty five minutes from the airport making it convenient for international travelers to reach here.
The Hotel is located on Jatiúca beach. There is lush green everywhere. Add to it the beautiful calm waters of the natural lagoon and the dainty coconut grove. Also you get about two hundred meters of your very own virtually private beach. Privacy and central position both are present here being situated in the heart of Maceio's tourist area.
Jaticua resort houses in all 96 rooms. They are luxuriously furnished and equipped with all modern amenities. They are air conditioned. The Hotel provides facilities like 24h Room Service so that your stay is as comfortable as possible, Cafeterias where you can have coffee, dry cleaning, gift shop where you can buy gifts for your friends and family, the hotel even provides hair dressers and laundry service, private parking so that your car is safe. The staff is well trained and highly efficient. They are always ready to serve you with a smile. Also they ensure that you have nothing to complain about. To explore around the place, door to door taxi service can easily be availed as per convenience. To ensure that when you go out, your kid is in safe, trained hands, baby sitter is available so that you can leave you kids and have some quiet moments with your partner.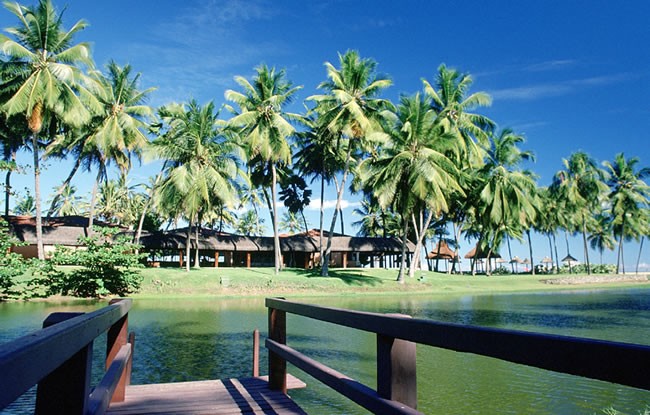 The Hotel has swimming pool and you can also play volleyball here. Also you can have a game of snooker. One can go on a hike too. There is access to 24 hours access to Internet in private room next to the reception area of Jatiúca Resort Hotel.
There are three restaurants in the Hotel. Canoas Restaurant serves breakfast and lunch and offers a wonderful view of the sea. The Veranda restaurant overlooks a pretty sight too with the Jaticua Sea in view. It offers a diverse menu. The Alagoas restaurant serves a varied cuisine keeping in mind tastes of large number of people. The executive bar serves you your favorite drink in an ambient atmosphere. Dishes include recipes with exotic meat and special poultry. You get delightful homemade pasta too. The famous Rocha sisters present lip smacking regional dishes.
Jatiuca Resort Hotel is one of the most beautiful hotels along the Brazilian coast, and is rightly famous for its integration of nature and architecture, comfort, and quality services.
Learn more about Maceio: List of hotels, packages, tours and much more!
12 de Jun de 2011