The Jatiuca Flat Hotel in Maceio
A closer look at the Jatiuca Flat located in Maceio.
Inspected by our Hotel Expert team.
The Jatiuca Resort is a beautiful hotel ideally located just a few minutes away from the city centre, very close to the beach front. It is a modern luxurious four star hotel that can boast excellent accommodations and services. Located on Jaticua beach, this pretty property extends over the lush greens covering 62 thousand square meters, tropical gardens. The resort area includes a beautiful natural lagoon and a really pretty green coconut grove. You actually get 200 meters of private beach as a part of the hotel. A mere 25 minutes away from the airport and located in centre of Maceio, it is at an ideal location.
Jatiuca resort houses 83 suites over the seven floor building. The suites can be chosen to be with one or two bedrooms and these are divided into five categories with duplex flats on the seventh floor. Each is equipped with all the modern amenities including air conditioning, cable television, mini bar, telephone and even small things like a hair dryer. You even have a safe to keep your cash and valuables safe in; after all, it is well known that a traveler's greatest worry is ensuring their safety. Each room has a balcony with breathtaking view. You are served by well trained, highly efficient staff who is ready to cater to your needs 24 hours. Wi‐Fi internet connection is available for you to stay connected. One need not worry about travelling in and around the charming town. The tour desk is forever at their service. Also you get door to door taxi service 24 hours. In case one wishes to enjoy the night life, their kids can be left in safe hands by availing the baby sitter service. Also the laundry and dry cleaning is taken care of by the staff.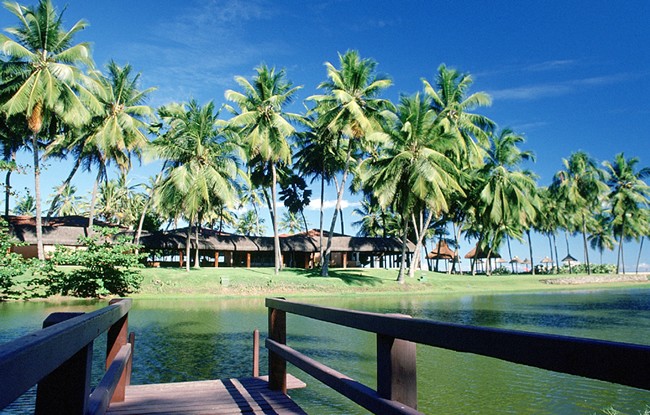 You can swim in the pool or play tennis and volleyball. Jatiuca resort offers you two tennis courts, sand volleyball court, playground, hiking areas. Fitness freaks also have the outdoor gym at their disposal. An amusing team of entertainers organize fun activities for entertainment as well as leisure activities for both kids and adults. The Jacarezinho club is where the organizers and kids participants meet.
To cater to your hunger pangs, the hotel offers a wide range of cuisines. The Canoas restaurant is there for you too. Also is the Cascata restaurant located in the ground floor of Jatiuca resort. For your convenience, Jatiuca resort accepts credit cards including Amex, Diners club, Mastercard, VISA. Also for business requirements, copy fax machine, personal computers, internet access is available.  The Jatiuca resort is all yours for a perfect vacation for sure.
13 de Dec de 2010