The Iberostar Grand Amazon Hotel in Manaus Cruiseship
A closer look at the Iberostar Grand Amazon located in Manaus.
Inspected by our Hotel Expert team.
Iberostar Grand Amazon cruise takes you on an amazing adventurous trip on the rivers of Amazon river. Starting from Manaus, the capital of Amazonas state, you sail on making a number of stops. You can make excursions on smaller boats to venture out in the unexplored beauties of the jungle. This five star cruise blends natural comfort with excellent services and contemporary facilities.
The marvel offers 75 fully equipped cabins to choose from. The comfort offered is commendable, services are really praiseworthy. You get to enjoy natural exuberance including tropical forests, exotic wildlife. You get to see whole new things like flooded forests and small streams called igapos and igarapes respectively. Apart from all this, one gets a fun filled life in the cruise itself. After all, you get the option of rooftop Jacuzzi to pamper yourself as well as a disco.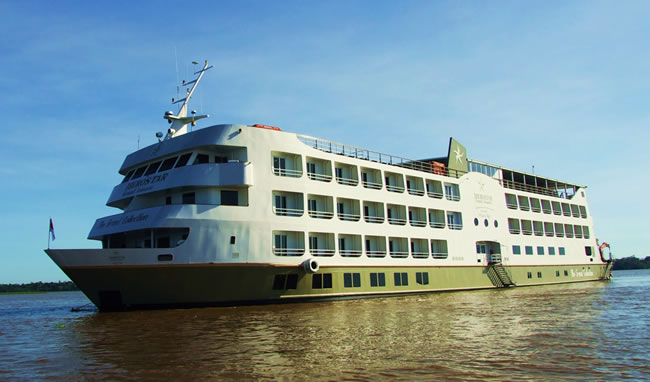 All along the banks, you get to meet new people; their warmth and welcoming nature will make you almost feel at home. As you see the cruise lets you explore nature at its best.
The cabins have anything and everything under the sun to make you feel grand. They are all comfortably air conditioned. There is a cable television for your entertainment. Also you get DVD and CD players. Then there is high speed internet too to let you stay connected. Every small need like a hair dryer is also taken care of. The room service takes care of everything including your laundry. The safe deposit boxes let you keep your cash and valuables safely without having to worry about them anymore. After all, these happen to be any traveller's greatest worries.
Once you decide to enjoy outside, you have even more options. The swimming pool invites you to take a dip. Fitness freaks can work out in the fitness centre. The mini bar is at your disposal to let you sip your favourite drink whenever you feel like. The bars and discotheque make sure you can dance the whole night if you so desire. The food served is also really good.
Visitors have always given it a thumbs up and will vouch that they leave smiling, keeping happy memories of their stay with them. So, come and Experience the tropical rainforest and the fascinating environs of the Amazon River on this trip deep into the jungle while you luxuriate in the comfort of a five‐star cruise whenever you want.
Learn more about Manaus: List of hotels, packages, tours and much more!
08 de Jun de 2011