The Grand Majestic Palace Hotel in Florianopolis.
A closer look at the Majestic Palace Florianopolis located in Florianopolis.
Inspected by our Hotel Expert team.
Majestic Palace Hotel is a 5 star hotel overlooking the North Bay in the city of Florianopolis, Santa Catarina, Brazil boasting incredible views with the ultimate in luxury and facilities. The hotel is strategically located in the city centre. It has a convenient access to the International Airport Hercilio Luz. The southern beaches can be easily reached from here too.
This charming modern hotel offers in all 261 rooms. They are luxuriously furnished and beautifully decorated with everything keeping in mind your convenience.
The hotel offers a wide variety of features like 24 hour Room Service, 24 hour reception, cafe, car park, childcare / babysitting, children's playground, concierge, deck , entrance hall / lobby, express check‐in / check‐out, gym, hotel bar, internet access, laundry service, lift, massage, non‐smoking rooms, outdoor swimming pool, sauna, sun umbrellas, terrace, towels at the pool / beach, wellness centre / spa, wheelchair accessible, whirlpool / Jacuzzi, wireless internet. Colors , tastes, flavors from all over the world are combined in the sauce pan by Tina Bauer in the international kitchen of this grand hotel. One enjoys not only the food but also the breathtaking views of the Northern Bay. You also get fine drinks in the Mezzenine cafeteria and bar where more than 50 persons can sit at a time.
All major credits cards like Visa, MasterCard, American Express, Diner's Club are accepted at the hotel. Well trained and adorable staff of the hotel, mainly speaks English and Spanish. Tourist guides and cars for sight seeing can be easily hired from the hotel to roam around the Florianopolis, a beautiful city famous for its natural beauty and the 42 beaches which attract thousands of Brazilian and South American foreign visitors every year and offers an excellent infrastructure of restaurants, shopping's and an intense nightlife .
Hotel Majestic Palace offers excellent services in all aspects, bringing back the white glove service standard for receptionists and doormen. It has an incredible infrastructure with a luxurious atmosphere and this is what makes Majestic Palace Hotel one the best hotel experiences of the island. Visitors have always given it a positive response and have thanked the hotel staff for their memorable stay.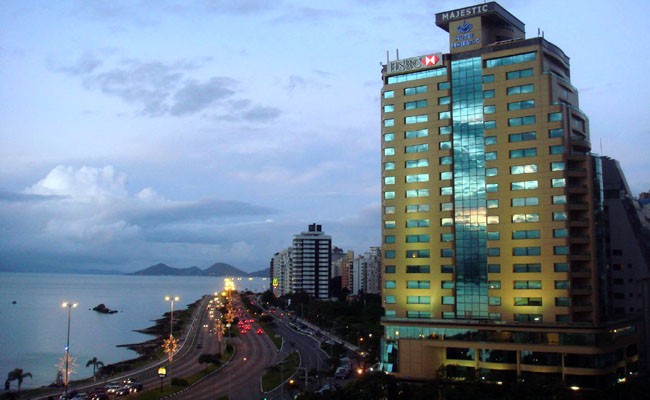 Availability of rooms can be easily checked with the click of a button via the invaluable internet and you can make your bookings online. Always try to book your rooms in advance at the Majestic Palace hotel. Happy vacations!
Learn more about Florianopolis!
List of hotels in Florianopolis packages, tours and much more!
Book the Majestic Palace Hotel
20 de Aug de 2011