The coziness of Belo Horizonte available to you at the Liberty Hotel
A closer look at the Liberty Palace located in Belo Horizonte.
Inspected by our Hotel Expert team.
Located right in the center of Belo Horizonte‐ the third largest city of Brazil, Liberty Palace is the best hotel you could ever enjoy your vacation in Belo Horizonte. The hotel is well connected from the Pampulha airport which is just 12km away. The check in and check out services are easy, efficient and painless procedures. This hotel has been specially designed to provide utmost comfort and luxury to its clients. It proudly holds within itself a set of 4 elegant English suites and a total of 24 super deluxe and deluxe apartments apart from its 56 standard apartments.
At the Liberty Palace Belo Horizonte you will be granted with rooms that have television, internet, air conditioning, mini bar, safe and a refrigerator. The hotel has a magnificent lobby and offers various culinary delights in its restaurants. The famous Michelangelo Restaurant resides within the hotel and provides sumptuous lunch and dinner everyday. Besides the Lobby Bar is open after 6 pm each day.
Liberty Palace also offers Valet and fast laundry services. Another great thing, multi lingual receptionists are just phone call away from your room. It also offers in‐room movie facilities, a modern fitness center, and a lovely outdoor swimming pool. The hotel has a huge parking centre, a fire alarm system and is secured with the help of its many security cameras. Right inside the touristic paradise of Savassi neighborhood, this hotels provides you great proximity to the high end retail shopping of the city. The Quinta Avenida shopping centre and Patio Savassi are very close to this hotel.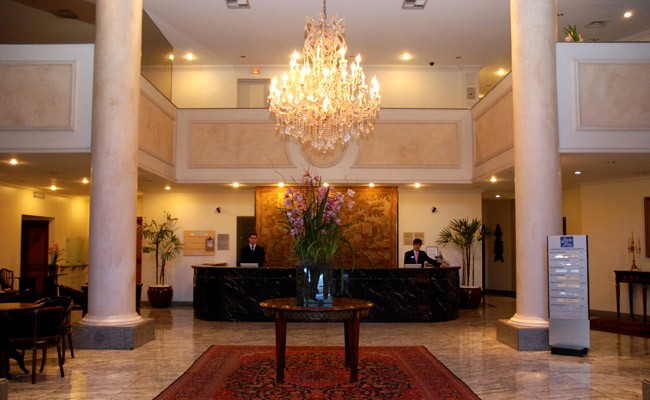 The Minas Gerais State Government Head Office Hall is barely minutes from the hotel, as also Brazil's finest restaurants. It is well connected with highways that lead to heritage places. Praça Sete is 1500 metres away and the City Hall is near there too.
At night you can revel in the atmosphere of bars and nightclubs which are near the hotel. Although Liberty palace is situated in the heart of the city, you are placed in a nice and quiet area, and those moments of silence and escape from all hustle and bustle you will have here. Clients who have experienced their services are very happy with 24 hour room service and recommend ever helpful staff who strive to make your stay as pleasant as possible. There is much to be seen and loved in Belo Horizonte, and people always love the leisure services provided by Liberty Palace.
01 de Oct de 2013