The Bourbon Cataratas Resort Convention Hotel in Iguazu Falls
A closer look at the Bourbon Cataratas Resort Convention located in Iguazu Falls.
Inspected by our Hotel Expert team.
Bourbon Cataratas Resort Convention Foz do Iguaçu is one of the finest resorts in Foz do Iguaçu in Brazil. Its location is very convenient ‐‐ merely 8 kilometers from the airport.
Surrounded by tropical nature, it brings you close to nature and at the same time gets you all the modern facilities. As an added advantage, it is nearby the national park of Iguacu. It is favored by those holidaymakers who enjoy the tranquility of nature, yet wish to be close to all the modern facilities.
It is a very large hotel with 311 well appointed rooms and bedrooms. The rooms here are comfortable, clean and well appointed. It has all the comforts of luxurious beds, climate control, well equipped bathrooms and pretty view to wake up to. The Resort Staff is very co‐operative, neat and always ready to help you. They are well trained, highly efficient and always ready to cater to your needs with a smile on their face. Visitors spend a fair amount of time around the large pool and at the poolside lounge. With quality music being played, it is supposed to be the hot‐spot to relax and enjoy yourself. The children's program here is great that provides various recreational activities for them to take part in. Bourbon Cataratas Resort Convention Foz do Iguaçu, Brazil, is a good place to relax yourself. One can simply enjoy in the quality gardens. You can choose to pamper yourself in the spa and massage centre and rejuvenate your senses and could completely let go off your stress.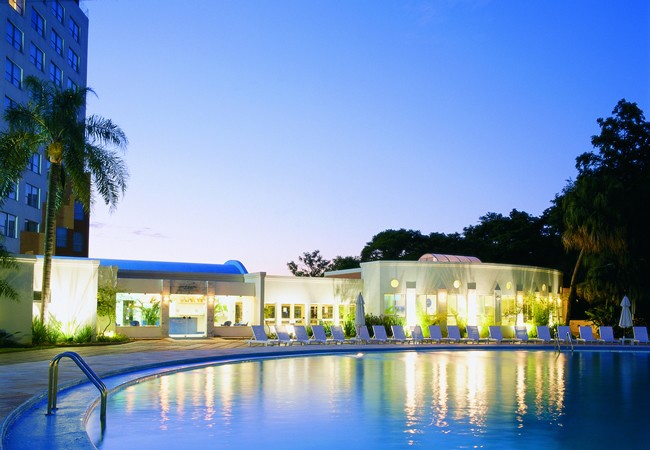 And to tickle your taste‐buds, visit the Taroba restaurant that serves International and Brazilian cuisine along with live music, the Brasserie Naipi offers breakfast, lunch and dinner. If you prefer Italian cuisine you can enjoy the Osteria bar restaurant. Special arrangements are made in festive season, the rooms are beautifully decorated and an extensive buffet is organized.
For your conferences and events a meeting space is also available at the Bourbon Cataratas Resort & Convention Centre Hotel in Foz do Iguacu with modern equipment, function rooms, auditoriums with capacity for up to 6.000 people.
This resort welcomes visitors of every age group. And if you want to relax yourself and your kids to have a lot of fun, then this is definitely a good hangout. This place is the right place to be to enjoy the charming town from. A pleasant comfortable stay is assured for everyone.
Learn more about Iguazu Falls!
List of hotels in Iguazu Falls packages, tours and much more!
10 de Dec de 2010