The Asalem Hotel in Ilha Grande
A closer look at the Asalem located in Ilha Grande.
Inspected by our Hotel Expert team.
Asalem, is a peaceful and beautiful 3 star resort located on the magnificent island of Ilha Grande, around 3 hours from Rio de Janeiro, Brazil. This 6‐room resort is the perfect place to relax and get away from the busiest of lives. The rooms are small but the setting is very quiet and really makes one feel part of the natural surroundings. The rooms are also equipped with air conditioning, balcony, private bathroom, electricity adapters, fan(s), fridge, internet access in room ‐ wireless / cable, living room/sitting area, sofa/lounge chairs, umbrella, solar water heater system, rooftop rainwater harvesting system for toilet flushing, bio‐septic sewage system.
While enjoying a relaxing holiday in the calm and tranquility of the island, you can also try the lip smacking food in the resort's restaurant. The cuisine tastes just like home made food, and are served fresh and is the best available on the island. Not to mention, of course, it is lovely to have a breakfast on a deck above the rocks with panoramic views of the sea and mountains.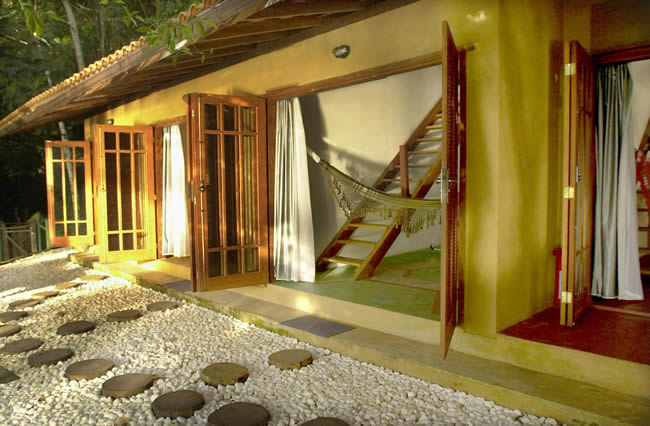 Some of the activities offered by the resort to make your stay a memorable one include, massage therapy, snorkeling, guided hikes and botanical tours, boat trips, kayaking. Keeping you entertained with the modern luxuries it brings you closer to nature at the same time, offering the breathtaking sea view. Services like laundry/ironing, room service, shuttle service (i.e. to/from town centre), vehicle hire/car rental can be arranged easily.
If one wishes to move around, cabs and travel guides can be booked from the resort to view the beautiful island of Ilha Grande, which is famous for its beauty. After all, the tropical beaches with clear blue waters and soft sandy beaches, lush greenery all around and an adventurous feel with an air of peace and tranquility all around. The island is known for its rich wildlife and flora diversity. All this is surely worth a visit.
Asalem is one of the best resorts on the island and is an ideal location for honeymooners as well as the entire family. Visitors have given it a thumbs up and have always thanked the efficient staff for their stay at this wonderful resort. Almost all major credit cards including, Amex, Diners Club, MasterCard, VISA are accepted. Availability of rooms can be easily checked with the click of a button via the invaluable internet and you can make your bookings online. HAPPY STAY! HAPPY JOURNEY!!!
Learn more about Ilha Grande: List of hotels, packages, tours and much more!
15 de Jul de 2011