The superb experience of staying at the Ariau Jungle Towers Hotel in Manaus
Nothing beats the excitement of staying in this amazing and unique hotel in the heart of the Amazon.
Inspected by our Hotel Expert team
Ariau Jungle Towers is the ultimate place to be, being the largest eco friendly resort built at tree top level over the mighty Amazon river. Located northwest of Manaus, Brazil; this resort happens to be a diamond amongst the many places offering accommodation. It truly is among the top 1000 places to see in your life.
Consists of eight treetop wooden houses worth a look, 268 treetop rooms, suites and tree houses; each elevated at ten to twenty meters above the rainforest floor. This may sound like some kind of tarzan adventure, but you have to take the word that it is a life time experience. The tree accommodations are connected over five miles of wooden catwalks that run through Amazon's thick lush canopy of native trees and forest at a height of 30 feet. No wonder it is the largest tree top hotel in the world.  The standard rooms offer you absolutely wonderful view of the Amazon River, the diverse plant and animal life and each room is equipped with air conditioner, double beds, mini bar, private bathroom and balcony. They range from single, double to triple rooms.
The suites are spacious tree top ones and represent true spirit of the Amazon with the tropical decoration and style. Each suite has private balcony with absolutely breathtaking views. They are equipped with cable television, air conditioner, dining table, mini bars. The bathrooms are well equipped and very comfortable.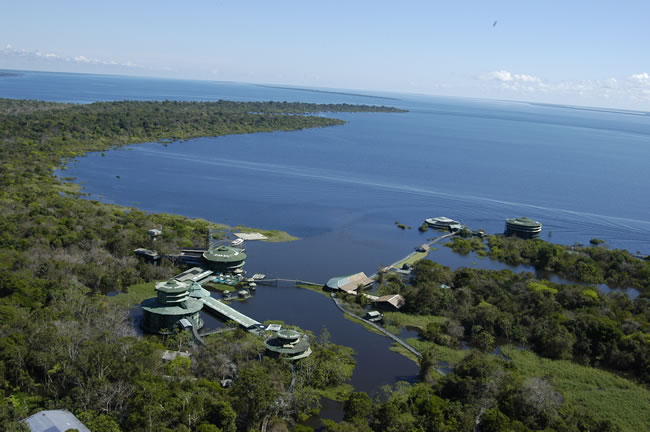 Tree houses and Tarzan suites are designed exclusively for discerning guests who seek the ultimate Amazon experience. Exotic luxury is what they get in the middle of the jungle. Elite eco-lodging with a touch of the contemporary is all you will need to get the complete adventurous feeling. Named as 'The Jacques Cousteau', 'Discovery', 'President Lula' and so on, each lives up to its name. The tallest among these, the Tarzan house is built atop a living mahogany tree at a height of 22 meters above ground.
In all there are eight towers. First one has 28 rooms and the "World peace suite". Tower II has 38 rooms and staff lodge. Third one has only staff lodge. Tower IV has 42 rooms and "Royal" and "Imperial" suites. Tower V has 44 rooms and "Divine", "Celestial" and "Supreme" suites. Tower VI consists of 46 rooms, "Solar", "Stellar", and "Cosmic" suites. The seventh complex has the reception, restaurant, auditorium, gift shop, game area and the ambulatory. And finally, the eighth tower has 70 rooms in all.
You can enjoy a wide range of cuisine at the restaurants and bars. There is a lot to do including swimming with rare pink dolphins.
A rare place on earth made available for you, come stay at The Ariau Jungle Towers in Manaus.
Learn more about Manaus: List of hotels, packages, tours and much more!
28 de Sep de 2013