Stay At Hotel Das Cataratas If You Go To Iguazu Falls
A closer look at the Das Cataratas Hotel located in Iguazu Falls. Written by our Hotel Expert team.
Das Cataratas Hotel Foz do Iguacu is one of the finest hotels in the charming town of Foz do Iguacu. Das Cataratas Hotel Foz do Iguacu is located right inside the Iguassu National Park. The worldwide famous 'Iguassu Falls' is just at walking distance.
Owned by the prestigious Hotel group Orient Express, the Das Cataratas has just been renovated.  Because of its proximity to the actual falls (cataratas in Portuguese), one can enjoy amazing views of the Iguassu falls every morning, even before the park opens its door to general public. The Iguassu Falls are a breathtaking nature gift composed by 275 water falls, spreading over almost 3 kilometers in an steep‐sided gorge carved by the Iguassu River. The Foz do Iguassu International Airport is located on the highway which provides access to the hotel and the city of Iguassu Falls (BR469). It's actually located 15 kilometers from the falls.
The Das Cataratas Hotel has a total of 193 beautifully decorated rooms and suites. Each room is fully furnished and is completely equipped with all contemporary facilities including air conditioning, modern bathrooms and luxurious beds. Besides the beauty of the location and the proximity to Iguassu Falls, the hotel also provides many recreational activities that a person could take part in. There are extensive sports facilities for swimming and tennis.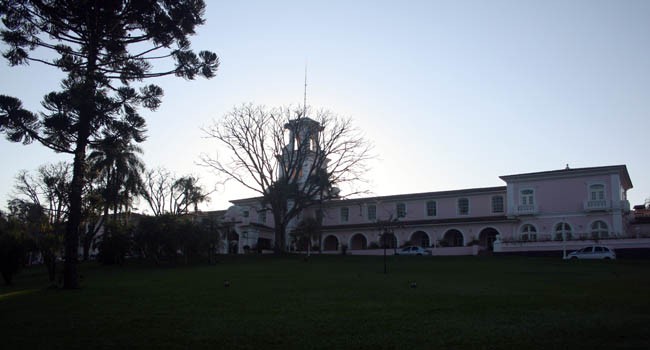 Inside Das Cataratas Hotel Foz do Iguacu, Brazil, everything is top quality with perfect condition and a very tasteful, exquisite decor. The pool is new and perfect with excellent water and  served by a dedicated staff. You can have fun lapping away to glory only all day long. Or you can enjoy playing tennis. If nothing, you can simply sit down and enjoy the beauty of nature in this peaceful place.
For adventure seekers, from there you can have organized boat‐trip after a tour through the jungle, a guided tour to the Argentinean side of the falls, a guided tour to the Itaipu dam. This, you can get nowhere else. The visitors say that the staff here is superior to anything they have encountered anywhere in the world and recommend it to all those who can afford for it. The staff is highly trained and efficient and always ready to serve you with a smile. The warm hospitality and complete comforts will make you want to come back again and again to this charming town and to this hotel.
The breakfast, lunch and dinner provided is excellent and would surely excite your taste‐buds. Each and every moment that you pass in this hotel is a 'Once in Lifetime' Experience. Families, singles, adults and kids alike enjoy the stay undoubtedly.
Learn More about Iguazu Falls and its hotels or book a package vacation that include Iguazu Falls.
10 de Sep de 2014