Stay at The Costa do Sauipe Golf & Spa Hotel for an unforgettable time
A closer look at the Costa do Sauipe Golf & Spa located in Costa do Sauipe.
Inspected by our Hotel Expert team.
Costa do Sauipe Golf & Spa is an exquisite beach resort located in Bahia, Brazil. The hotel is right on the beach, in Costa do Sauipe resort complex. The complex is about an hour drive from Salvador and 64 km from Salvador airport.
The Costa do Sauipe Golf & Resort offers 256 fully equipped units, including some for handicapped, on request. The rooms have one king size bed or two queen size beds. Beautiful Bahia beach and natural landscape presents a great view from your room.  It is claimed rightfully as one of the most elegant Brazil beach resorts. The charming town has a lot to offer to keep you entertained during your entire stay. Costa do Sauipe golf and spa ensures you will leave at the end of your stay with a smile.
Hammocks are available for rooms with balcony. Live life king style: play golf during the day, then go for rejuvenating your senses in the spa, relax in the sun bathed beach, do whatever your heart desires.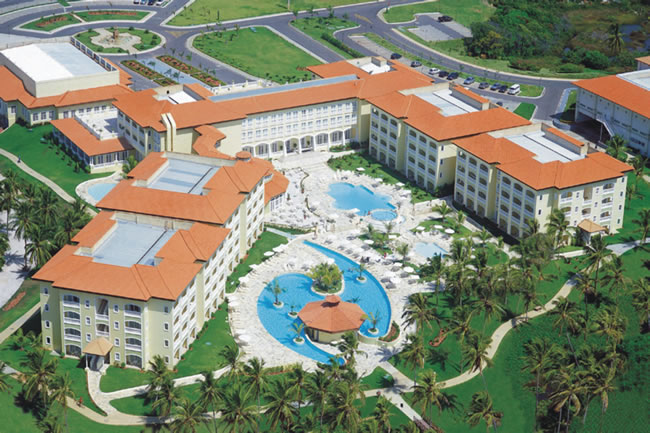 If you are wondering how the restaurants are at the Costa do Sauipe Golf & Spa Hotel, it's possible for you to indulge in delicious cuisine of Bahia and Asian menu in the restaurant whenever you feel like. Your adventure spirit will be let loose when you engage in the thrill of horse riding or taking a plunge in sea sports. Then you may decide to relax while sipping your choice drink at Manga Rosa bar along the swimming pool.
For those who like to stay fit, gym and yoga facilities are available. To spend the evening with your beloved in the Bahia Beach paradise resort, you might want to leave your child in safe, trained hands; for this Costa do Sauipe Hotel has babysitting services too. Each of the 1000 or so guests are perfectly served.
A perfect vacation or a successful business visit, family or single, old or young: you are bound to enjoy the fun filled as well as relaxing stay at Costa do Sauipe Golf and Spa.
27 de Oct de 2013