The Sofitel Florianopolis Hotel In Florianopolis
A closer look at the Sofitel Florianopolis located in Florianopolis.
Inspected by our Hotel Expert team.
Sofitel Florianopolis hotel is a deluxe hotel located on the charming Santa Catarina island. It is the ideal place for corporate and leisure travellers. It has a most breathtaking view overlooking the bay. It has top class business facilities and all the things you need for a relaxing vacation.
In all there are 115 rooms. You get a luxurious working area, comfortable air conditioning, and data port for internet connection, wardrobe facilities, anti allergic apartments and everything to make you comfortable. Pretty ladies may wish to pamper themselves in the beauty parlour. Other facilities include parking with manoeuvre service, special attendance for groups. 24 hours room service and well trained staff who serve with a smile will surely bring a smile to your face. Make your stay a relaxing and rejuvenating experience; recharge yourself at the thermal pool, steam sauna, hydro massage, coffee bars.
Located merely 30 minutes from the international airport, there is easy access to the beach. Also, the convention centre is a mere stones throw away. To this wonderful place, Mr Danilo Scheibler, the hotel manager welcomes you. The staff happens to be well trained, highly efficient and always ready to serve you with a smile. This vibrant place offers you more than one option for entertainment. Also, whether you wish to stay fit or tone yourself or get back the glowing skin, Sofitel helps you rejuvenate your senses. Special amenities as well as expert advice on the above are available.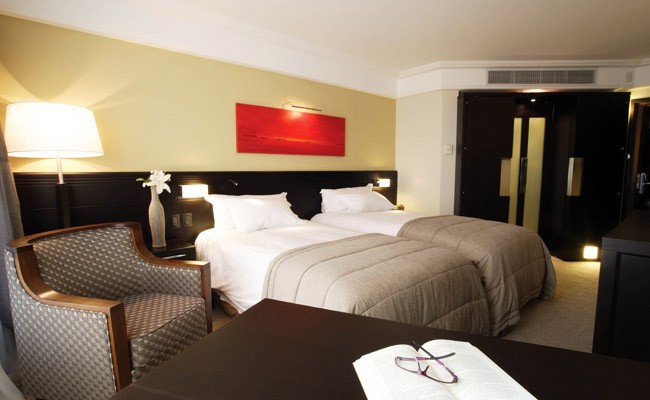 The spas will transport you to a new world of sensation; scented pools of water, beauty treatments and products inspired by rituals of the yore. Also beauty well being centres with luxurious treatments dedicated to beauty is available. Corporate clients get special offers. Also there are facilities to arrange for meetings or conventions. Sophisticated subtlety; all in midst of incredible countryside, makes you feel like you have been carried to another world. The elegant surroundings help you savour the softer side of life and just let yourself lie back and enjoy the beautiful side of life. It is truly the ideal destination to appreciate true luxury and invigorate the complete being. Inner as well as outer comforts are taken care of.
Availability of rooms, seasonal offers, special packages can be easily checked using the internet and bookings be done using the same. The world of Sofitel Florianopolis, Av. Rubens Arruda Ramos, 2034, (Beira Mar Norte), Centro, 88015‐70 Florianopolis, Brazil.
Learn more about Florianopolis!
List of hotels in Florianopolis packages, tours and much more!
13 de Oct de 2010