SIX MORE TIPS FOR YOU TO ENJOY THE BEST OF RIO DE JANEIRO
How to watch the parades at the Sambadrome
If you are coming to Rio and haven't decided yet if you are going to watch the samba schools parades, there's a bit of information to help. They are the main events of Rio's Carnival, a singular spectacle that doesn't exist anywhere else in the World. The Sambadrome has different types of accomodations: Grandstands for you to feel the emotion among local samba schools fans (allocated seats only in Sector 9); boxes, if you want to be real closer to the performers; allocated seats if you're on a budget; and the comfy suites, if you can spare the cash. Parades start on Friday, February 9th and Saturday, 10th with the Access Group samba schools. They are competing for a spot on the elite parade, the Special Group, that takes place on Sunday, 11th and Monday, 12th. If you're staying longer, there is still another option: The Parade of Champions, on February 17th, during which the best six ranked elite samba schools will make the final celebration of the Carnival. The tickets for this night are considerably lower than the official parades.
Check it out and book yours: https://goo.gl/SfrmrY
How to take part of the parades
No matter if you have tickets to watch or not, you can be a samba school performer yourself. All you have to do is buying a costume of your choice. You inform your measures to the samba school's dressmakers so that they can adjust the clothes. In the day of the parade you pick up your costume. You need to go to the Sambadrome a little earlier than the scheduled parade starting time since you have to find your wing in an area known as "concentration", where all  performers gather to be organized in the right order of entrance. Bookers International sells costumes of Access Group and Special Group samba schools. The pick-up is at our Hospitality Desk located in a hotel in Copacabana.
For more information: https://goo.gl/5K8BzE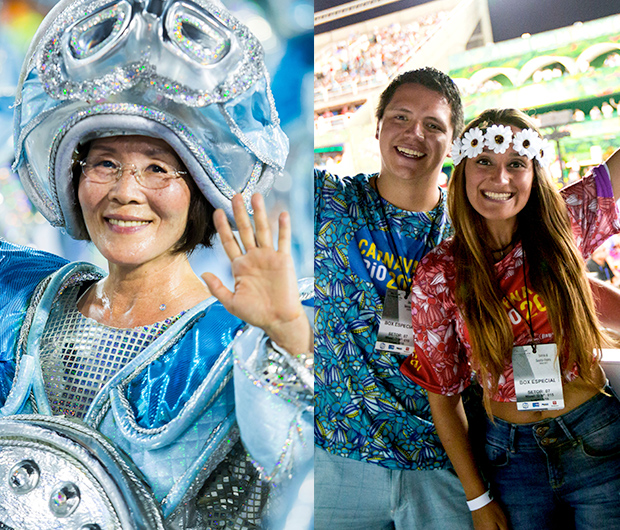 If you get in town before the offical events start, there will be plenty of action going on. Actually Rio starts its Carnival season just after New Year's Eve. Every weekend many block parties happen on the streets of the central districts and the ones near the seaside. In a square close to the Sambadrome, there is a venue named Terreirão do Samba, where you can go to watch samba shows. Another option is attending samba schools rehearsals that happen on their headquarters or on the streets. Each school has a particular schedule. Prices vary according to the event, but those on the streets are for free.  Since the samba schools are in communities distant from the turistic areas, it's advised you attend to them guided by a local. The headquarters closer to Downtown are Unidos da Tijuca, Mangueira, Salgueiro and Vila Isabel.
Enjoy your time in Rio as a true "carioca". Visit the famous beaches, like Copacabana and Ipanema. Once you have set your feet on the sand, ask for two local habits: Biscoito Globo, a wafer-like biscuit made of manioc flour, and a sweet matte tea with or without lemon. To go to the most celebrated touristic points like Sugar Loaf, you may consider acquiring the Golden Ticket which grants you smaller or no lines to access the trams and also access to an air-conditioned lounge. The city has also museums like the Art Naif International Museum, The Forte Copacabana (an old military fortification) or Museu do Amanhã, whose architecture made fame around the World during the 2016 Olympic games.  All these attractions are easily accessible. Just choose your tour and enjoy.
Carnival is like a marathon in terms of physical demand. But if you have enough energy to exercise further, Rio has incredible landscapes distant from the crowded beaches and Carnival parties. Trails offer the opportunity to see Rio's postcards from other prospectives. Like Pedra Bonita, inside Tijuca Park; the Urca Mount trail or that on Morro Dois Irmãos. If you are a more experienced treker you can try the Pedra da Gáve route. You will be in touch with lavishing Subtropical forest, full of flowers and birds of unimaginable colours.
If you are staying longer in Rio, you should separate some days to visit Região dos Lagos, north of Rio. Known for its very white sand beaches and jagged coastlines this region has many small towns like Buzios, Arraial do Cabo, Cabo Frio, Iguaba Grande, Sao Pedro da Aldeia and Saquarema. It's easy to get to those cities, at reasonable prices to visit small and larger beaches that offer some breathtaking views.
18 de Jan de 2018