Simpatia é Quase Amor – An Alternative To Banda De Ipanema
Simpatia é quase amor – for those who wish to have an alternative to Banda de Ipanema.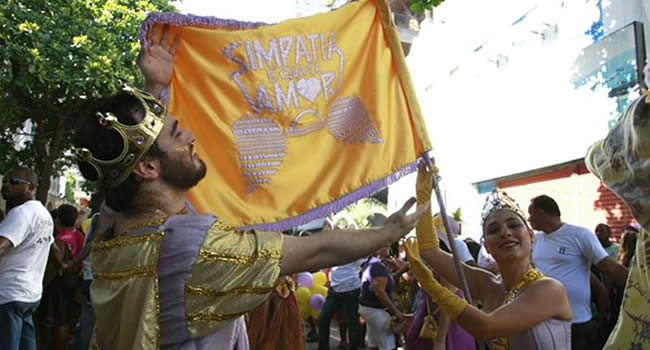 Simpatia é Quase Amor first debuted in 1985, a full twenty years after Banda de Ipanema. This new coming bloco was meant for families including children to participate and enjoy the magic of street parties.
Their official colors are lilac and yellow and it has been their trademark since the beginning. The story they tell is that these colors were inspired by the wrapping of Engov – a popular hangover pill that was popular in those years.
Though it started with about 300 participants initially, it is expected that Simpatia 2014 will see more than 500,000 revelers partying on the streets. It is a common sight to see dancers dressed very informally and comfortably in Bermuda shorts and colorful tee shirts, or with no t-short t all. Girls will be wearing shorts or skirts and confortable tops.
There are two parades of Simpatia annually. The first parade is held on Saturday a week before carnival and the second one is held on carnival Sunday. Their route will be along Av. Vieira Souto till it reaches Rua Anibal de Mendonça at Posto 10, which is a short distance from Leblon.
One of the highlights of the parade is when, on carnival Sunday, the Simpatia é Quase Amor runs into the band Que Merda é Essa? at the crossing of  Garcia D'Ávila street. This raucous co-mingling of the two parades so close to the finish line makes for a great amount of confusion and joy!
So, do you want to know more about the street parties in Rio?
12 de Oct de 2013