Sao Paulo Guarulhos: Flying high
The airport that transports you to Sao Paulo and the rest of the world is also the busiest in Brazil.
General info about Sao Paulo Guarulhos
Sao Paulo Guarulhos is the 2nd largest city in the state of Sao Paulo in Brazil. This is where the Sao Paulo Guarulhos International Airport is situated, one of the most important airports in the country. The name Guarulhos comes from Tupi Language meaning Eaters, big-bellied people which describe the indigenous people who live in the area. The airport is the main facet of this city and it is the busiest port in terms of passenger traffic as well as aircraft movements. This is one of the main airports but it does have its very own issues before by being one of the airports with most delays in the past years. This issue is being addressed now by adding more runways and reconfiguring air traffic to address the big number of departures and arrivals in Sao Paulo Guarulhos.
Accommodations in Sao Paulo Guarulhos
Since this is an airport, mainly the airport hotels in Sao Paulo Guarulhos are the most convenient areas to reside if you arrive too early or if you are on a delayed flight. The Sao Paulo Guarulhos airport hotels, like many others are not really the most comfortable of all but they do the job for those who are not really expecting to lose their flights or needs to have a different flight. Most airport hotels are bed spaces so you would have to be patient about it. Explore some good accommodation options like Mercure Apts GRU Airport, Marriott Guarulhos and Caesar Park Airport.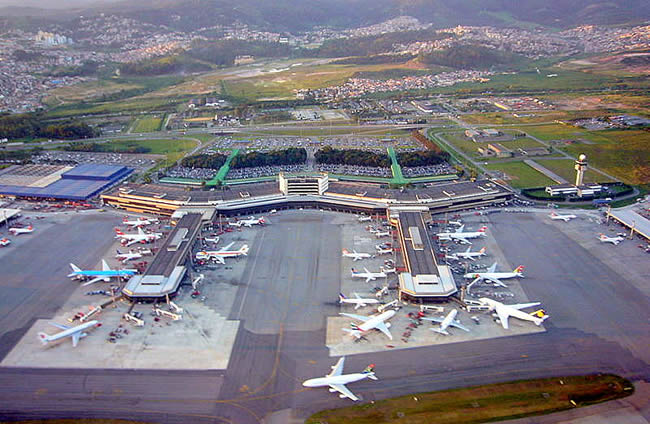 Activities in Sao Paulo Guarulhos
You can go to the shopping areas that are inside the Sao Paulo Guarulhos international Airport. Since this is a major airport, it is impossible that it does not have a duty-free shop that can be used to buy new things or to stock up on some necessities or splurge on some popular brands that you might not have been able to buy in local stores in Brazil or in your own country.
16 de Feb de 2011