Sao Clemente Samba School– Symbol of Brazilian Irreverence
Get familiar with Sao Clemente, the bold Samba School that's not afraid to showcase a bit of wicked humor during its performance.
All samba schools represent different social clubs or neighborhoods from different areas. Sao Clemente Samba School is the only community from the South Zone. Sao Clemente group is located in Botafogo, on the North Dona Marta Hill. It was established in 1961, but finding a suitable rehearsal ground is still a challenge for this school. The school colors are gold, black and yellow which kind of reflect their light hearted satirical way of referring to Brazil's customs and life.
Sao Clemente's chief characteristic is its samba theme combined with its irreverence which analyses Brazil's quality of life. For example, Sao Clemente brought to attention the violence and chaos of Rio de Janeiro's traffic during the 1984 Carnival. It followed this act the next year with a cheeky satire about the housing deficit in Brazil which was turning into a major headache. The group chartered into un-ventured territory in 1987 with its theme of Rio's street children and included real street children in its parade.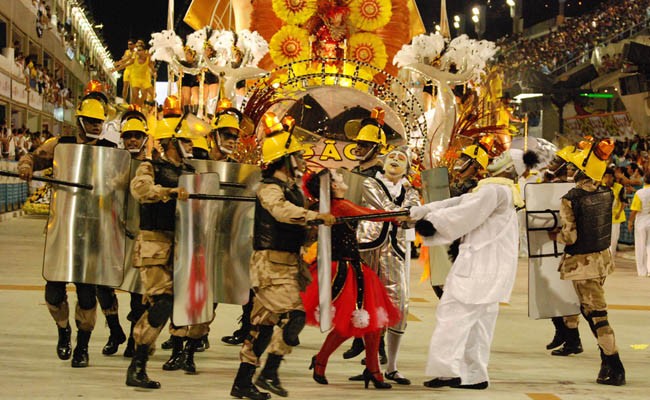 Sao Clemente Samba Schooloriginated from a Botafogo soccer club which changed itself into a Carnival school during the 1950s. They still have lots of connections with the Botafogo soccer club. They are headquartered in Central Rio. Sao Clemente is back in 2011 in the Special Group Category as it won first position in 2010's Access Group A Category. Earlier it had been demoted to Access Group in 2008 when the model Viviane Castros' tapa sexo (a glitter triangle which is used to cover up the most private anatomical parts) fell off and even the improvised substitute came unstuck during the parade. This mishap cost the group 0.5 points in the final score tallying as full nudity is not allowed during the parade.
Sao Clemente Samba Schoolis now a part of the big twelve of Rio's Carnival, with a chance to prove itself worthy of the top position.
Do you think Sao Clemente Samba School will be able to justify its standing during Carnival 2011?
07 de Oct de 2010