São Clemente – 2011 Rio Carnival Samba School Series
Learn the Samba and Synopsis of São Clemente Samba School for 2011 Rio Carnival
Synopsis for 2011
Theme: " O seu, o meu, o nosso Rio, abençoado por Deus e  bonito por natureza" ( Yours, mine, our Rio, blessed by God and naturally beautiful)
Winner of the acces group A in 2010, São Clemente samba  school  will open the parade on Carnival Sunday. São Clemente will exalt the charms of the marvelous city of Rio de Janeiro. In this Synopsis, God is gathering all saints and angels for the creation of the world. God has a particular interest in creating a unique city and ordains St. Clement and St. Sebastian (Rio's patron saint)  to be responsible for it's creation. This city is a natural wonder with the most beautiful landscapes, this city is Rio de Janeiro, God's wonderful creation. São Clemente school will cover Rio's landmarks, history and architecture. Jorge Ben Jor's song Pais Tropical (Tropical Country) was what inspired  São Clemente's synopsis title.
Let's parade with Sao Clemente!!! Book your Costume now!
More About the São Clemente
São Clemente The São Clemente Samba school is the only one located in the South Zone of Rio de  Janiero. Their colors are black, yellow and gold. São Clemente  is best  characterized by its irreverence of the Brazilian culture and society. São Clemente just made its way back to the Special Group in 2010 winning the A Group with a theme about Rio de Janeiro.
Tickets to enjoy the parade? Here!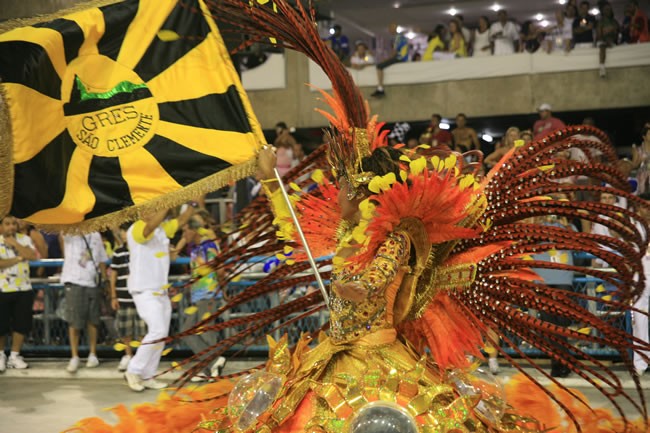 Theme for 2011: O seu, o meu, o nosso Rio, abençoado por Deus e bonito por natureza
Parading Date and Time: 3/6/2011 9:00:00 PM
Colors: Yellow and Black
Rainha (Queen): Bruna Almeida
President: RENATO ALMEIDA GOMES
Carnival Art Director: Fábio Ricardo
Book your hotel for Rio Carnival 2011!
04 de Jan de 2011